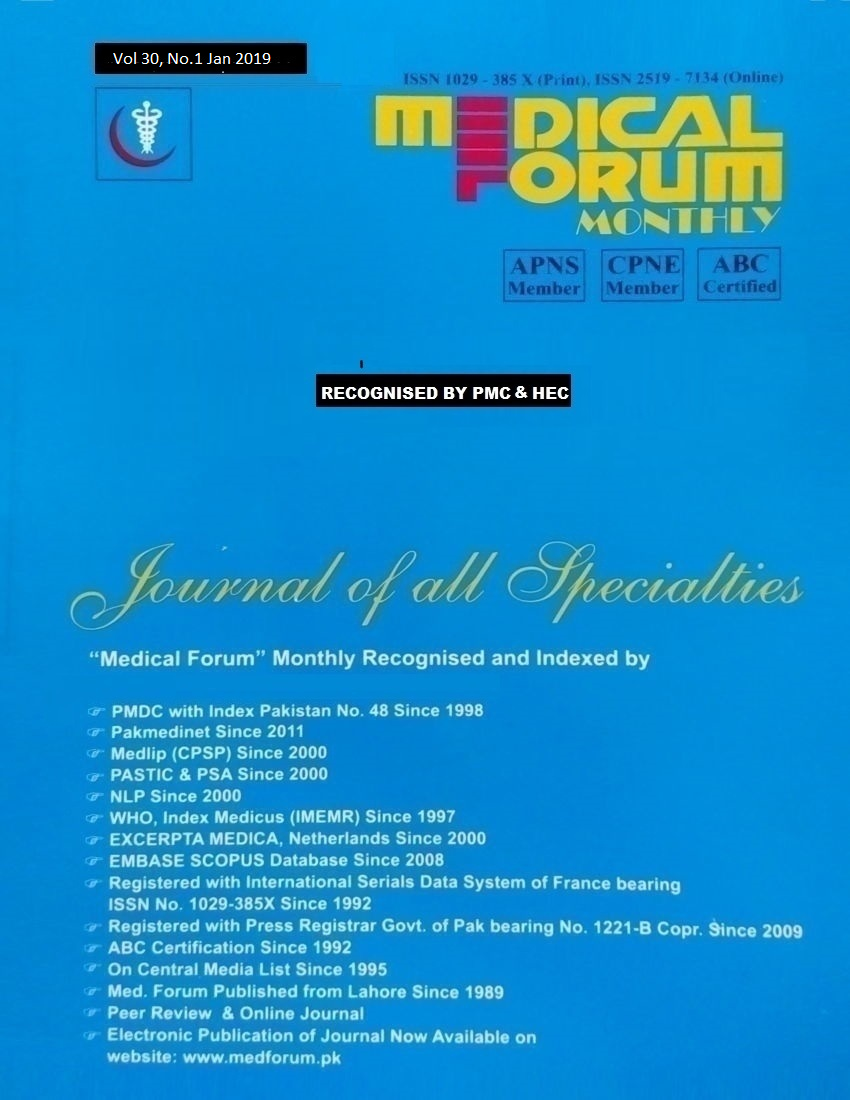 Admin
1. Frequency and Outcome of Congenital Heart Disease in admitted Patients in Pediatric Department PMCH
Ali Akbar Siyal1, Naseer Ahmed Memon1, Juverya Naqvi1 and Imran Ilahi Soomro2
ABSTRACT
Objective: This study was done to look at the frequency and outcome of children diagnosed with congenital heart disease at our setup.
Study Design: Retrospective study
Place and Duration of Study: This study was conducted at the Pediatric Unit of PMCH Nawabshah from November 2016 to October 2017.
Materials and Methods: Files of patients who were diagnosed with congenital heart disease were collected and data was retrieved regarding age, gender, type of congenital heart disease, and outcome (discharge, discharged on request, left against medical advice, referred and expired).
Results: Total patients admitted in ward 10554 from November 2016 to October 2017, of these patients 118 were diagnosed as having congenital heart disease. Ages ranged from 4 days to 10 years. Male were 56.7% and females 43.2%. Of these 118 congenital heart disease patients, 42(35.6%) were having cyanotic heart disease, rest of the 76(64.4%) patients have acyanotic heart disease. Out of these,57 patients were discharged, 21 patients were discharged on request, 12 patients were left against medical advice, 11 patients were referred and 17 patients expired.
Conclusion: Authors concluded that the congenital heart diseases are one of the common birth defects, with a significant mortality. Hence there is a high need of special diagnostic and treatment facilities for such patients in our setup.
Key Words: Congenital, CHD, cyanotic, acyanotic
Citation of articles: Siyal AA, Memon NA, Naqvi J, Soomro II. Frequency and Outcome of Congenital Heart disease in admitted patients in Pediatric Department PMCH. Med Forum 2019;20(1):3-6.