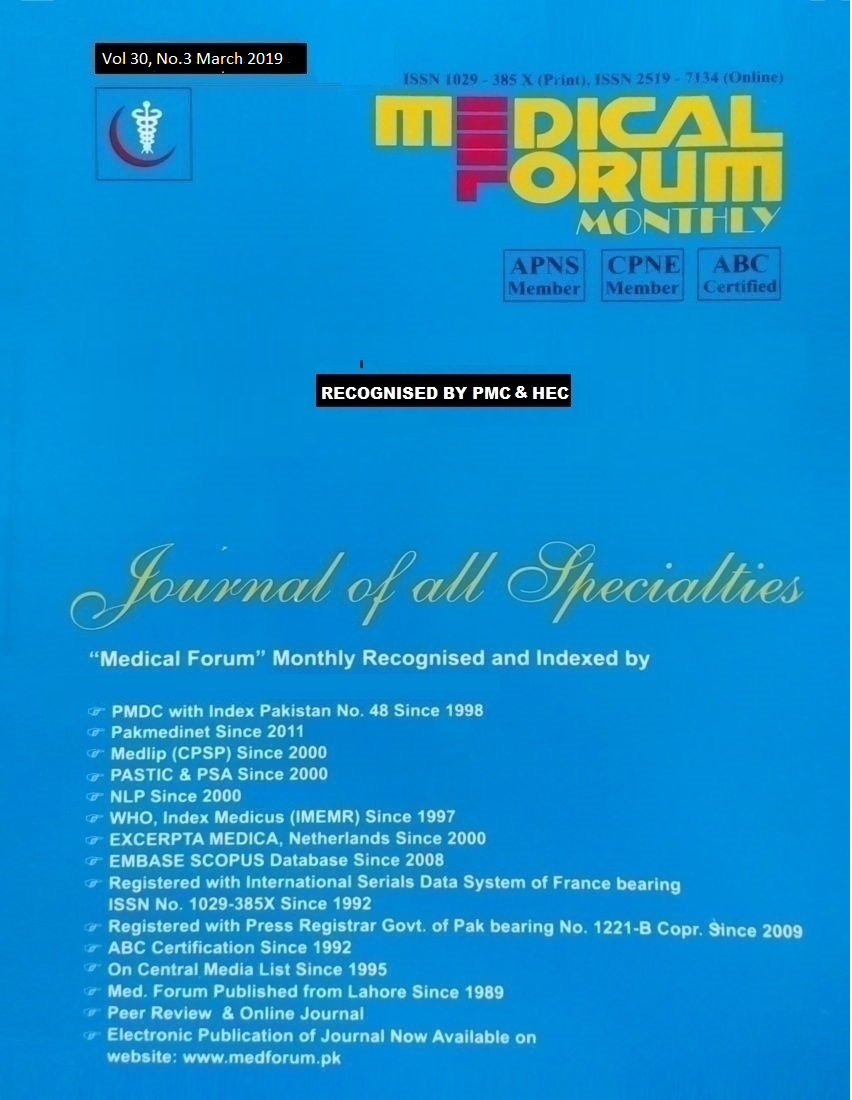 Admin
9. Frequency of Urinary Tract Infection in Postmenopausal Women
Humaira Imran, Farah Deba and Taqwa Abdur Rehman
ABSTRACT
Objective: To determine the frequency of urinary tract infection in postmenopausal women visiting Bakhtawar Amin Hospital Multan.
Study Design: Descriptive / cross sectional study.
Place and Duration of Study: This study was conducted at the Department of Gynecology, Bakhtawar Amin Hospital Multan from August, 2016 to July 2017.
Materials and Methods: A sample of 142 consecutive patient fulfilling the inclusion and exclusion criteria were included in the study. Informed written consent was taken from all patients. The demographic information like name, age, gender and address was noted. A detailed history and physical examination was carried out especially about symptoms of urinary tract infection. Complete urine examination was done in all the patients and 8 or more pus cells on urinary examination were considered as diagnostic of urinary tract infection. All the collected data was entered in a specially designed profroma.
Results: There were 142 patients in total. Mean age of the patients was 55.92
2.88 years. Mean for parity was 3.37
1.98. There were 136/142 (95.8%) married while 6/142 (4.2%) were unmarried. Urinary tract infection was found to be present in 39/142 (27.5%). When the effect of age was noted on the frequency of urinary tract infection it was found that among patients in age group
Medical Forum Monthly Is Being Published Under Medical Academic Foundation (Reg.) Since 1989 From Lahore, Pakistan Which Is Meant For All Specialties, Recognized By PMC & HEC . Medical Forum Monthly Is Open Access, Scopus, Peer Review, Online And Internationally Indexed Scientific Research Journal. Medical Forum Is Indexing In; Excerpta Medica By Elsevier's Scopus Database, Index Madicus For Eastern Mediterranean Region (IMEMR) WHO, ESCI Web Of Science, ORES, Sac Russia Journal list, WEBCRAWLER And DOGPILE, Scimago Journal And Country Ranking (SJR) And Impact Factor From Researchgate (RG Journal Impact). Medical Forum Also Attained ISSN-1029-385-X (For Print) And ISSN-2519-7134 (For Online) From France. On National Index, Medical Forum Is Indexed In; Pakmedinet, Medline, CPSP, MEDLIP, National Library Of Pakistan (NLP), PASTIC & PSA.