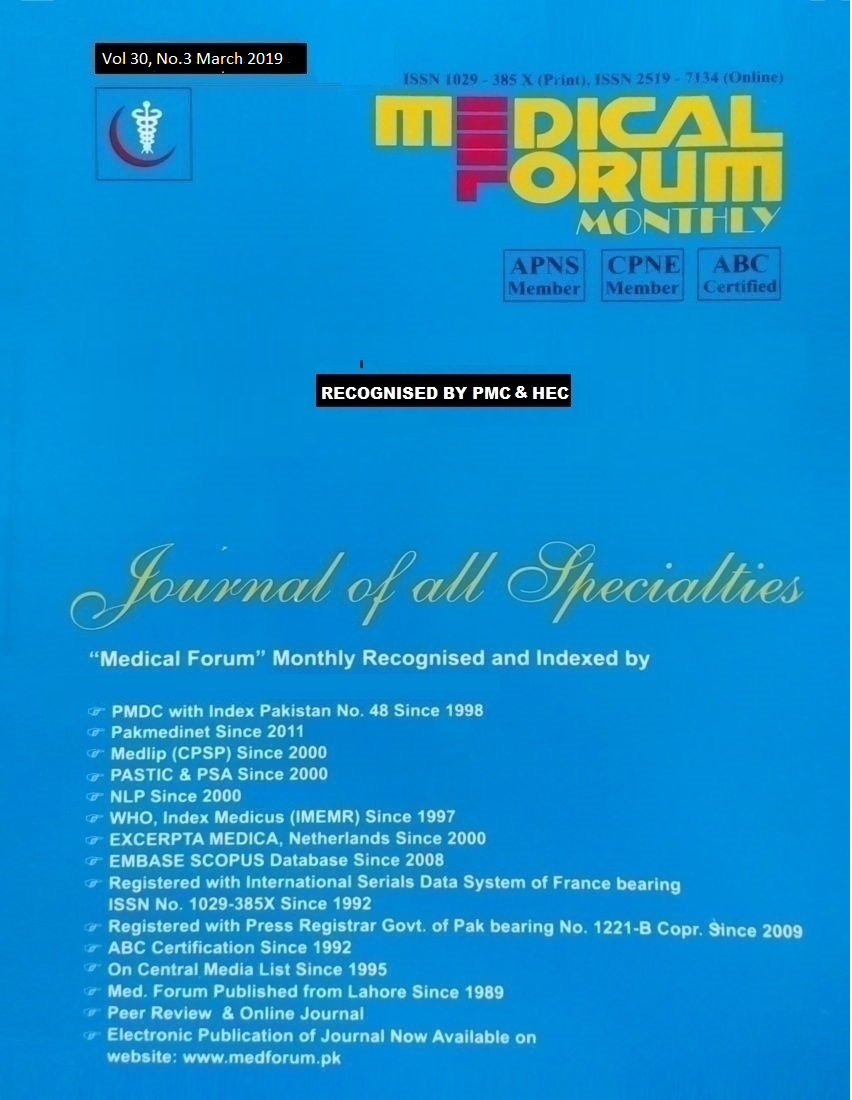 Admin
8. Prevalence and Clinical Correlates of Major Depression after Stroke: A Hospital-Based Stroke Study
Babar Bashir1, Dileep Kumar2, Jawwad us Salam3, Munir Hussain Siddiqui4 and Syed Shayan Ali4
ABSTRACT
Objective: To determine the prevalence and clinical correlates of major depression after stroke in patients admitted at tertiary care hospital in Karachi.
Study Design: Cross Sectional study.
Place and Duration of Study: This study was conducted at the departments of Medicine & Neurology, SMBBMC & DUH Karachi from July 2017 to June 2018.
Materials and Methods: A total of 340 patients with post stroke duration of greater than three months were included in this study. All the stroke patients were evaluated by Beck Depression Inventory questionnaire 2 for diagnosis of depression. All the data was entered in the predesigned proforma.
Results: The average age of the patients was 38.45 ± 9.48 years. Frequency of post stroke depression was observed in 45% cases, in which 13.2% mild, 44.1% moderate and 42.8% were severe. Rate of post stroke depression was significantly high in below 40 years and in ischemic type stroke.
Conclusion: Rate of post stroke depression was significantly high in ischemic than hemorrhage. We emphasize the importance of a thorough psychiatric evaluation of post stroke patients, particularly those who have a severe disability and a history of previous depressive episodes.
Key Words: Stroke, Depression, Ischemic, Hemorrhage
Citation of article: Bashir B, Kumar D, Salam J, Siddiqui M H, Ali SS. Prevalence and Clinical Correlates of Major Depression after Stroke: A Hospital-Based Stroke Study. Med Forum 2019;30(3):31-35.