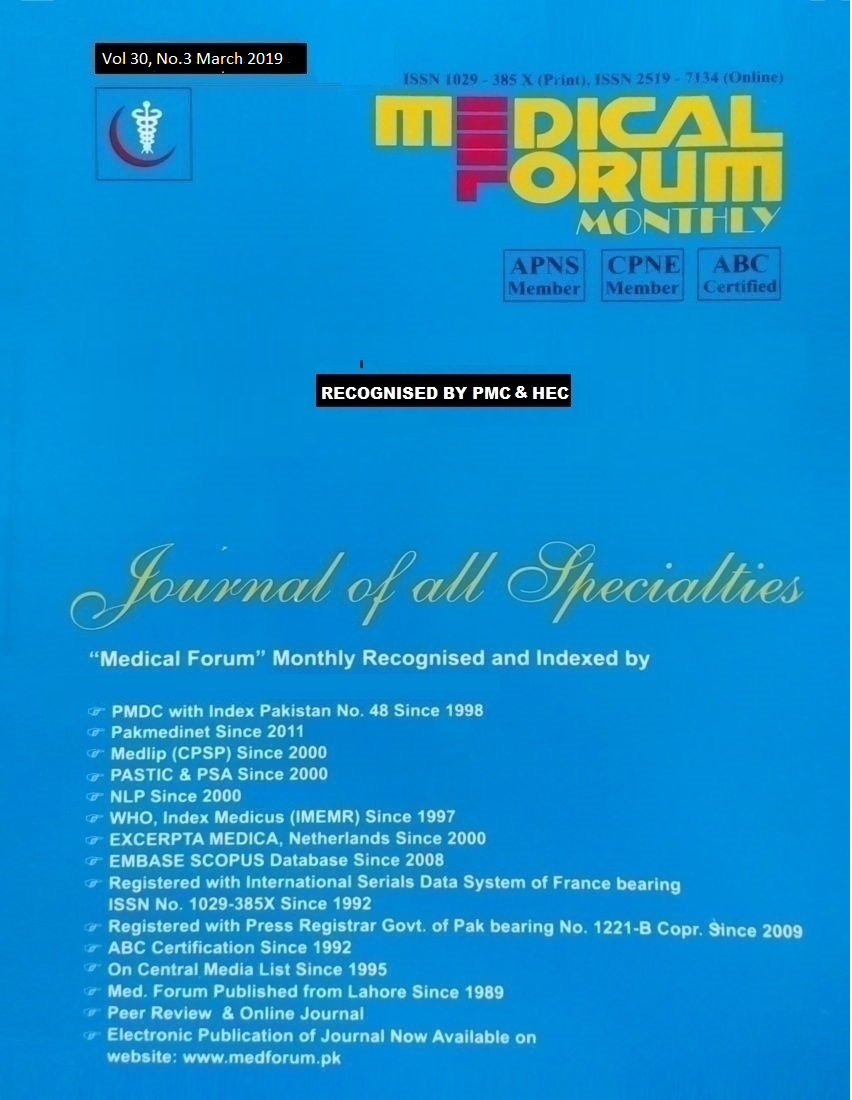 Admin
7. A Hospital Based Study of Knowledge, Attitude and Practices Regarding Dengue Fever among the Population of Peshawar
Saminullah Khan1, Sher Bahadur2, Attaullah Jan2 and Gohar Rehman2
ABSTRACT
Objective: To determine the knowledge, attitude and practices among patients and visitors in two tertiary care hospitals of Peshawar, Khyber Pakhtunkhwa, Pakistan.
Study Design: Cross sectional study.
Place and Duration of Study: This study was conducted at the Khyber Teaching Hospital (KTH), Peshawar and Lady Reading Hospital (LRH) from September to November 2016.
Materials and Methods: Data Collection was based on indigenous questionnaire. Using Convenient sampling techniques, a total of 448 adult patients and visitors were recruited in the study from two selected public sector tertiary care hospitals in Peshawar. The patients and visitors presented to outpatient department (OPD) were requested to take part in the study. Data were analyzed SPSS version 20 for descriptive statistics.
Results: Out of 448 sampled subjects, 435 (age 18-40 years) participated in the study, whom 289(66.4%) were male and 146(33.6%) were female. Regarding knowledge, only 239(54.9%) knew about mosquito bite as the main mode of transmission, 234(53.7%) believe that dengue is contagious diseases, while 72(16.5) were unaware. Similarly, 189(43.4%) reported that fresh water is main breeding site. Knowledge about prevention measures revealed that 72(16.5%) were lacking information of preventive measures and 137(31.4%) had no ideas about eradication strategies. More than half 253(58.1%) considered dengue could be dangerous if not treated early. Similarly, 239(54.9%) also believed that it should be prevented before onset. However 196(45.1%) of them were not in favor of prevention. The preventive measures proposed by participants included; Sprays 126(28.9%), Matt/ coil/ repellant 46(10.5%), Screening 32(7.3%) and Covering with cloths 31(7.1%), while 126(28.9%) were of the view that there is no need of any precautionary measures.
Conclusion: The knowledge among the adult participants was not optimal; there were wide variation in interpretations of causes, preventive aspects and consequences of dengue fever.
Key Words: Dengue Fever, Population, Peshawar
Citation of article: Khan S, Bahadur S, Jan A, Rehman G. A Hospital Based Study of Knowledge, Attitude and Practices Regarding Dengue Fever among the Population of Peshawar. Med Forum 2019;30(3):26-30.