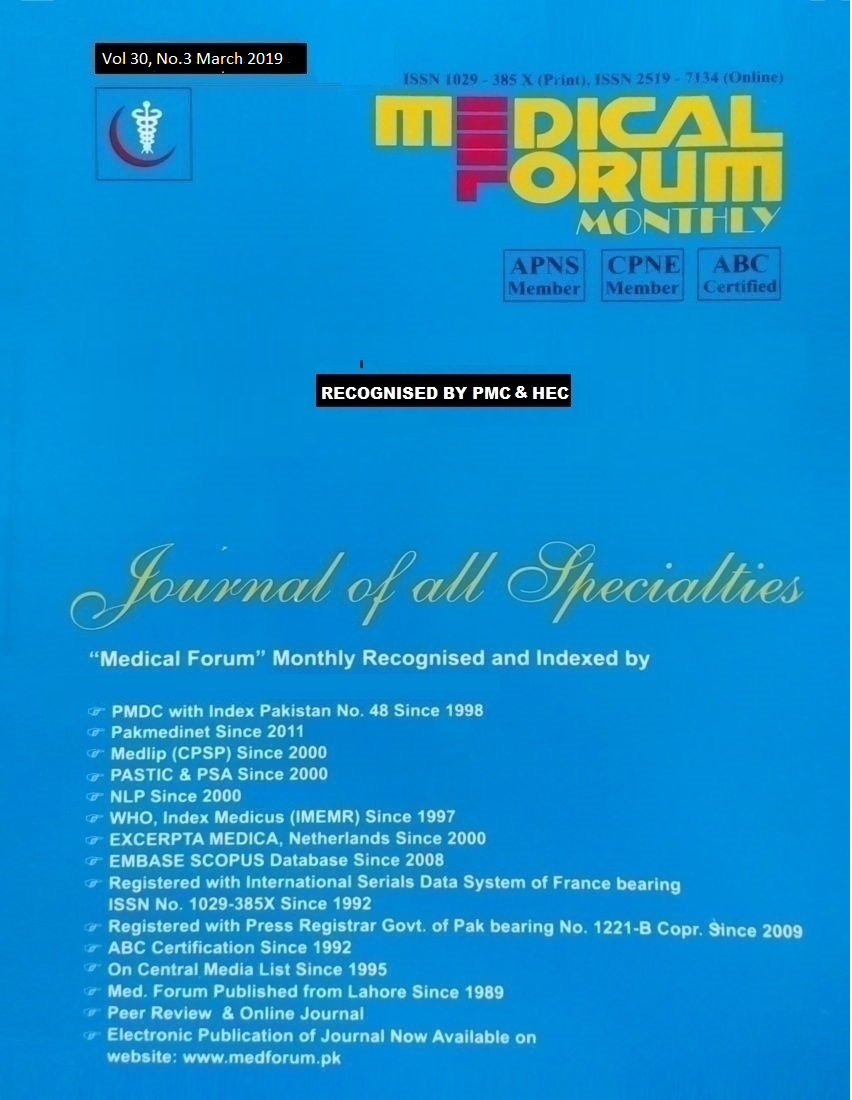 Admin
6. Functional Outcome of Cambell's Triceps Tongue Flap Approach in Patients with AO "Type C" Distal Humerus Fracture
Kashif Siddiq1, Muhammad Ali1, Muhammad Amir1, Muhammad Safdar Baig2, Muhammad Khizer Hayat Makki1 and Sajjad Ahmad1
ABSTRACT
Objective: To determine functional outcome of cambell's triceps tongue flap approach in patients with AO "Type C" distal humerus fractures in patients between 16 to 50 years of age.
Study Design: Descriptive case study
Place and Duration of Study: This study was conducted at the Department of Orthopedic Surgery, Civil Hospital Bahawalpur/Quaid-e-Azam Medical College, Bahawalpur from January 2012 to November 2012.
Materials and Methods: 196 cases between the ages of 16 –50 years with "Type C" distal humerus fractures according to AO classification were studied and samples were taken by a non-probability purposive sampling. Risen-borough and Radin criteria was used to assess the functional outcome of the results. All patients were evaluated at 16th postoperative week and range of elbow flexion with the help of goniometer measured to draw a meaningful conclusion in terms of satisfactory (Good and fair) and unsatisfactory (poor) functional outcome.
Results: According to Risen-borough and Radin criteria evaluation of these cases at final follow up (16th post operative week) revealed that 100 (54.3%) patients had good functional results with 60 (32.6%) male and 40 (21.7%) female whereas 55 (29.9%) patients had fair results with 40 (21.7%) male and 15 (8.2%) female. Poor results were found in 29 (15.8%) patients with 21 (11.4%) male and 8 (4.3%) female patients.
Conclusion: From our study we conclude that triceps tongue flap approach affords adequate exposure with ample space to fix the intra-articular fractures of distal humerus using both pillar fixations if required, in adults with satisfactory functional recovery in majority of the patients.
Key Words: AO type C. Distal humerus fractures, Triceps tongue flap.
Citation of article: Siddiq K, Ali M, Amir M, Safdar MB, Makki MKH, Ahmad S. Functional Outcome of Cambell's Triceps Tongue Flap Approach in Patients with AO "Type C" Distal Humerus Fracture. Med Forum 2019;30(3):21-25.