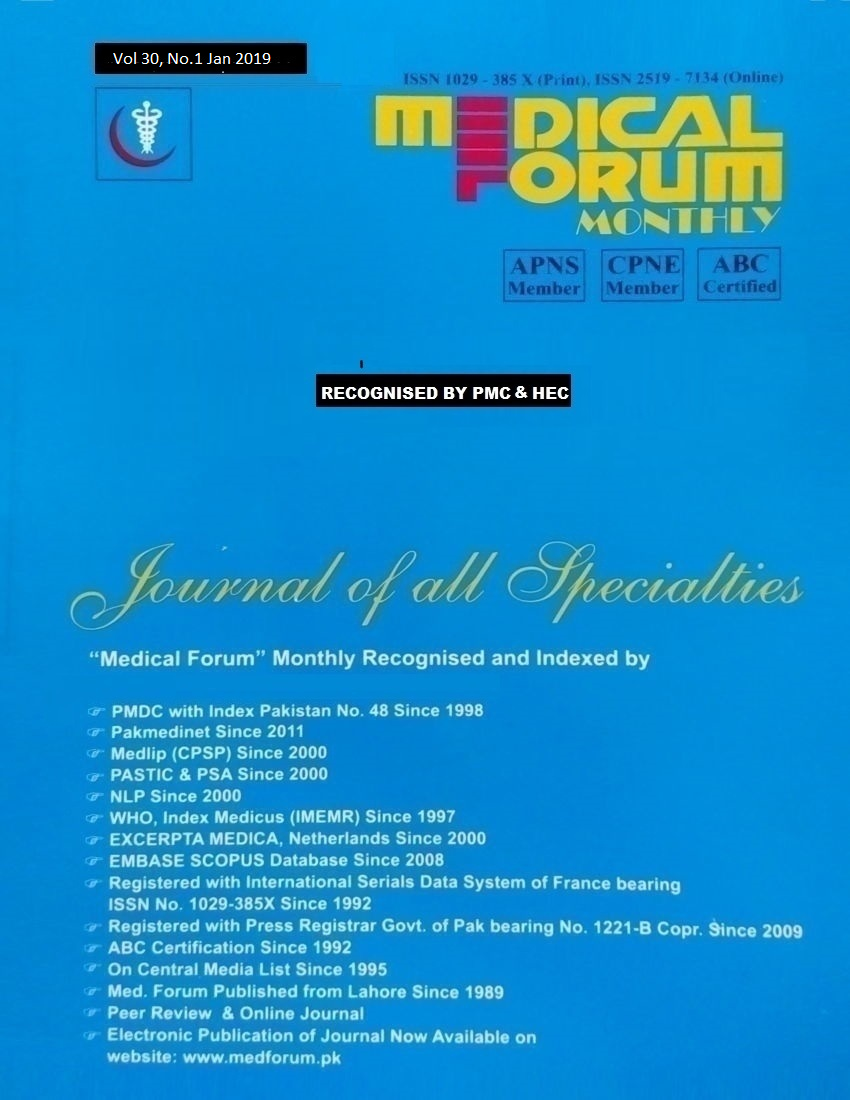 Admin
6. Frequency and Types of Common Gastrointestinal Parasitic Infestation in Hazara Pediatric Population
Hamayun Anwar1, Irfan Khan2, Khalid Khan2, Zahid Irfan Marwat3, Anwar Khan Wazir4 and Muhammad Nadeem5
ABSTRACT
Objective: To determine the frequency and types of common gastrointestinal infestation in children of Hazara region, presenting with abdominal pain.
Study Design: Cross-sectional study
Place and Duration of Study: This study was conducted at the Ayub Teaching Hospital Abbottabad from January 2014 to December 2014.
Materials and Methods: In this study 273 children with abdominal pain of either gender and age range 5-15 years were included. A stool routine examination was advised and requested from the pathology department of Ayub Medical College Abbottabad.
Results: A total of 273(100%) patients were included. Our study shows that 66% children were in age ranged 5-10 years and 34% children were in the age range 11-15 years. Mean age was 10 years with SD ± 3.71. Fifty-eight percent of children were male, and 115(42%) children were females. The incidence of helminth infection in our setup was found in 218(80%) children in which 145(53%) children had Ascaris lumbricoides, 27(10%) children had Hymenolepis nana, 33(12%) children had Trichuris trichhura, 11(4%) children had Enterobious vermicularis, 2(1%) children had Taenia saginata.
Conclusion: Our study concluded that the incidence of helminthes infection in our setup was 80% in which the most common helminth was Ascaris lumbricoides 53%, followed by Hymenolepis nana 10% and Trichuris trichhura 12% presenting with abdominal pain.
Key Words: Frequency, Helminth Infections, Pediatric Population, Abdominal Pain
Citation of articles: Anwar H, Khan I, Khan K, Marwat ZI, Wazir AK, Nadeem M. Frequency and Types of Common Gastrointestinal Parasitic Infestation in Hazara Pediatric Population. Med Forum 2019;20(1):22-26.