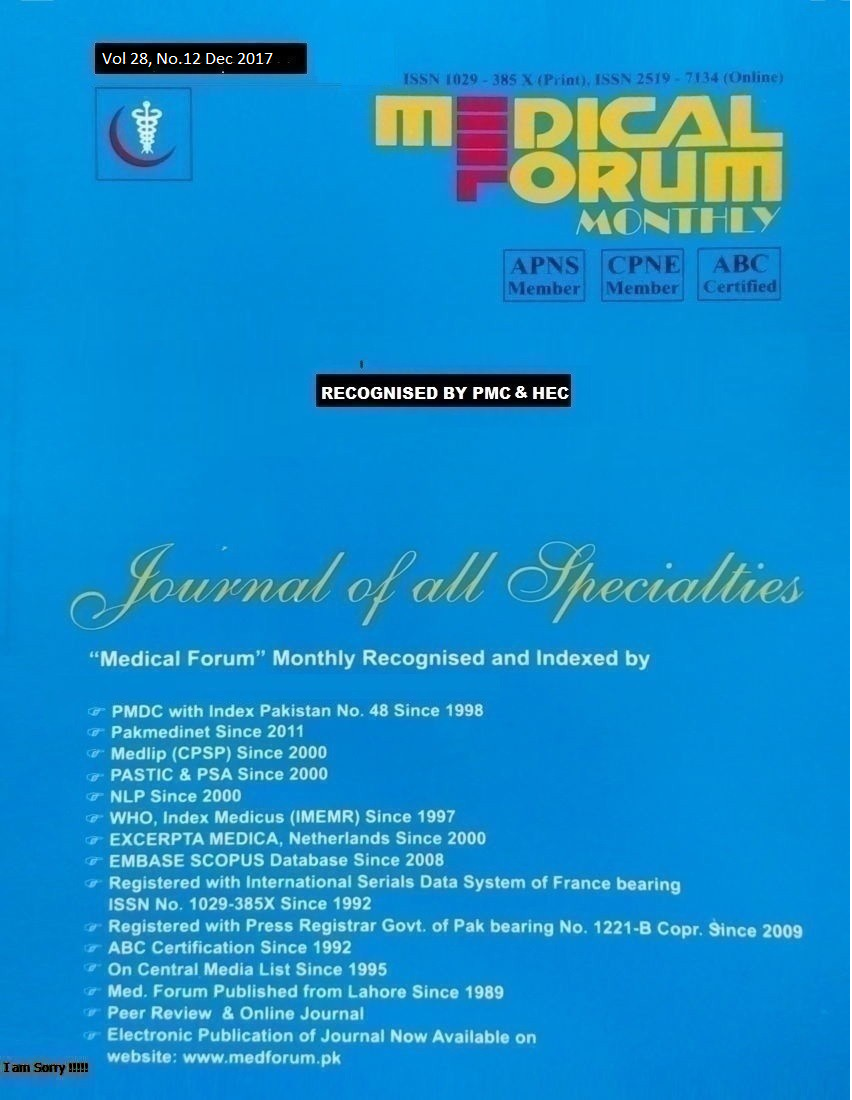 Admin
6. Frequency and Microbiological Profile of Reproductive Tract Infections in Women using Intra-Uterine Devices as a Mode of Contraception
Muhammad Usman Anjum1, Sidra Farooq3, Rana Tauqir Ullah Khan2, and Nazia Shams1
ABSTRACT
Objective: To determine the frequency and etiological agents responsible for reproductive tract infections in women
using intra-uterine devices as a mode of contraception
Study Design: Descriptive study
Place and Duration of Study: This study was conducted at the Department of Pathology, Frontier Medical & Dental College, Abbottabad and Obstet. & Gynae, Benazir Bhutto Shaheed Teaching Hospital, Abbottabad from December 2016 to June 2017.
Materials and Methods: Total of 203 female patients who have chosen IUD as a method of contraception were included in the study. High vaginal and endocervical swabs were taken and sent for microbiological analysis from patients who presented with clinical features of reproductive tract infection.
Results: Mean age of study participants was 32.61±5.49 years and mean duration of the next visit after IUD insertion was 24.30±6.90 days. Sixty patients presented with RTI and 32 of these patients presented within three weeks of insertion of IUDs. The incidence of RTIs was 29.56% and commonest isolates were Ureaplasmaurealyticum, Escherichia coli and Gardnerellavaginalis.
Conclusion: All women who opt for IUD as a mode of contraception must be screened for Ureaplasmaurealyticum and other microbes prior to IUD insertion to avoid infections by these organisms later. Longitudinal studies with longer follow up periods should be conducted to accurately determine the frequency of RTIs as well as microbiological agents responsible for these infections.
Key Words: Infections, contraceptive, intra-uterine device
Citation of articles: Anjum MU, Farooq S, Khan RTU, Shams N. Frequency and Microbiological Profile of Reproductive Tract Infections in Women using Intra-Uterine Devices as a Mode of Contraception. Med Forum 2017;28(12):23-25.