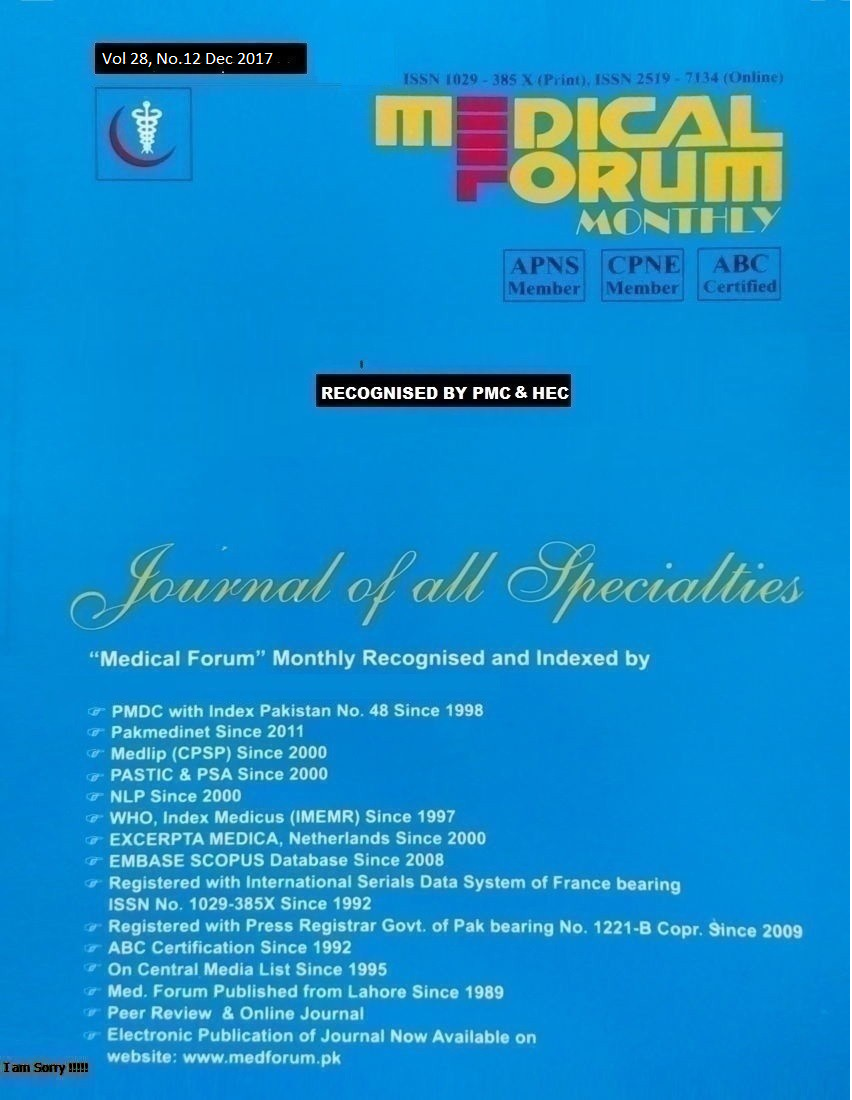 Admin
5. Estimation of Plasma Fibrinogen Level in Smokers and Non-Smokers and Its Correlation with Duration of Smoking: A Comparative Study
Naila Aslam, Muhammad Khalid, Farhat Rehman and Fazal Rahim
ABSTRACT
Objective: The aim of present study is to estimate plasma fibrinogen level in smokers & non-smokers in order to provide and validate the evidence for high fibrinogen level in smokers as a risk factor for cardiovascular disease. Study Design: Cross-sectional study
Place and Duration of Study: This study was conducted at the Govt. Lady Reading Hospital, Peshawar, from September 2016 to May 2017.
Materials and Methods: Subjects included 250 healthy male smokers and 250 healthy male non-smokers as control, selected randomly from general population of Peshawar. Smokers were divided into light, moderate & heavy smokers groups and also on the basis of duration of smoking. Fibrinogen level of whole sample was measured using coagulation analyzer Sysmex 530. The results were analyzed using SPSS 16.
Results: Out of 250 smokers, 94 (37.6%) were light smokers, 71 (28.4%) were moderate smokers and 85 (34%) were heavy smokers. 43 (17.2%) smokers were smoking for the last 5 years, 64 (25.6%) were smoking for 5 to 10 years and 143 (57.2%) were smokers for more than 10 years. Increased Fibrinogen level was noted with increasing intensity of smoking. Increased duration of smoking also increased the plasma fibrinogen in light and moderate smokers, while in heavy smokers smoking was the only dominant factor affecting the plasma fibrinogen.
Conclusion: Smoking was found to be a dominant determinant of plasma fibrinogen level in smokers who were otherwise healthy. The plasma fibrinogen was also found to be positively correlated with intensity and duration of smoking.
Key Words: Fibrinogen, smoking, cardiovascular disease.
Citation of articles: Aslam N, Khalid M, Rehman F, Rahim F. Estimation of Plasma Fibrinogen Level In Smokers And Non-Smokers And Its Correlation With Duration Of Smoking A Comparative Study. Med Forum 2017;28(12):19-22.