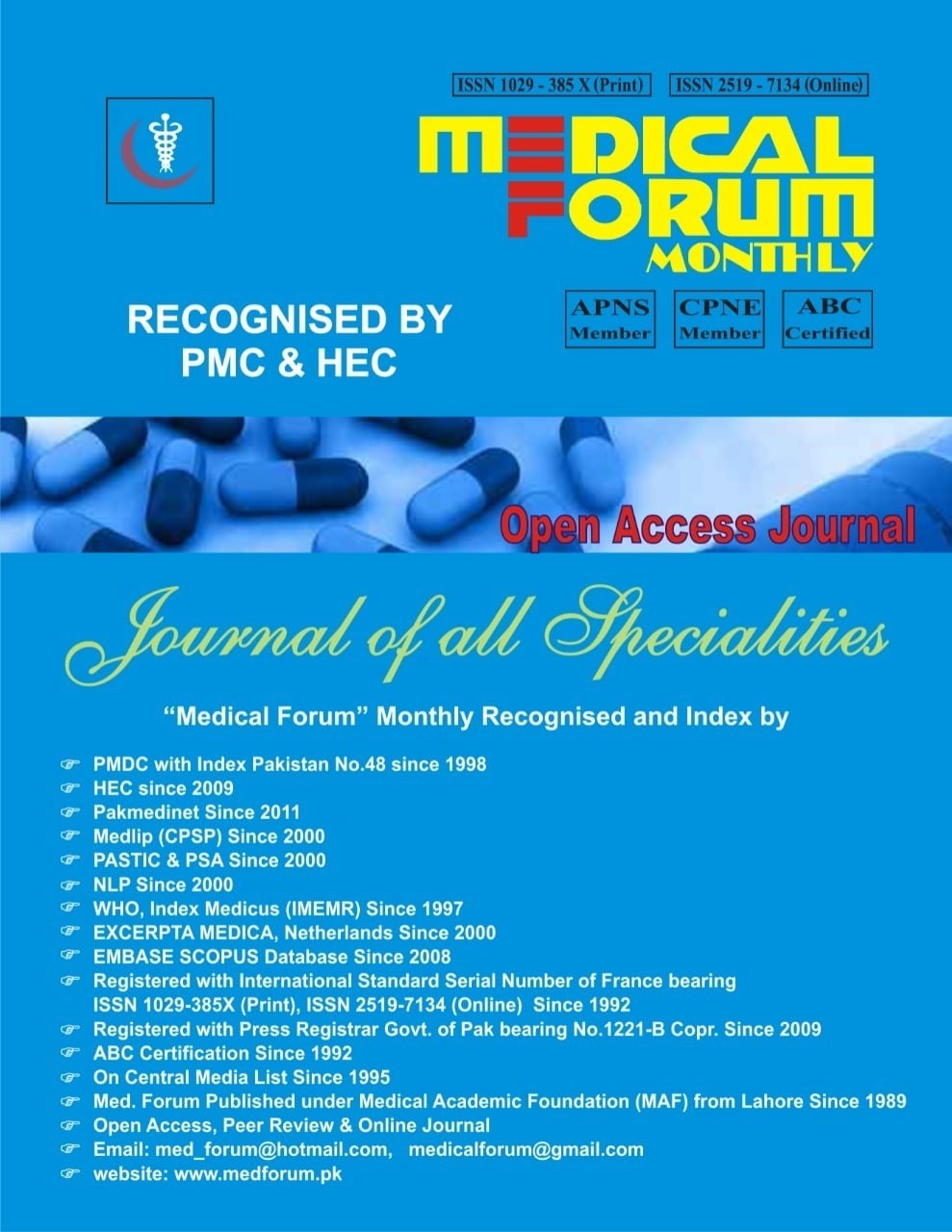 Admin
4.Perception of Radiation and their Associated Risk among Medical Students
Zaheer Hussain Memon1, Jawad Mumtaz Sodhar2, Shomail Saeed Siddiqui3, Umair Ali Soomro4, Hina Mawani5 and Aftab Abbasi6
ABSTRACT
Objective: To determine the perception of radiation and its risk among medical students.
Study Design: A cross-sectional study
Place and Duration of Study: This study was conducted at the Shahida Islam Medical and Dental College, Lodhran, Punjab for duration of six months from 01.01.2021 to 30.06.2021.
Materials and Methods: A self-administered questionnaire was given to them to fill after taken informed and written consent as well as being assured of the anonymity of the inclusion. Data was analyzed using SPSS Version 21.0, with Chi-square test being applied and the level of significance being kept at ≤0.05.
Results: A total of one hundred and fifty questionnaires were received in which the mean age of the participants were 23.45±0.23. Ninety-three (62%) students were females, and fifty-seven (38%) were males. An increase in awareness and knowledge were seen in increasing years, with final year students having most knowledge. Statistically significance varied from question to question. Significant difference (P-value: ≤0.024) was seen when students were asked if they have a great understanding of the radiology subject and its use in medicine.
Conclusion: Overall knowledge of radiation is inadequate and must be reinforced in students and early clinical integration must be done so that they can protect themselves and the patients as well as make rational decision will be ordering imaging for radiation of radio therapy in the future.
Key Words: Radiation, Medical Students, Exposure, Risk
Citation of article: Memon ZH, Sodhar JM, Siddiqui SS, Soomro UA, Mawani H, Abbasi A. Perception of Radiation and their Associated Risk among Medical Students. Med Forum 2021;32(9):15-18.