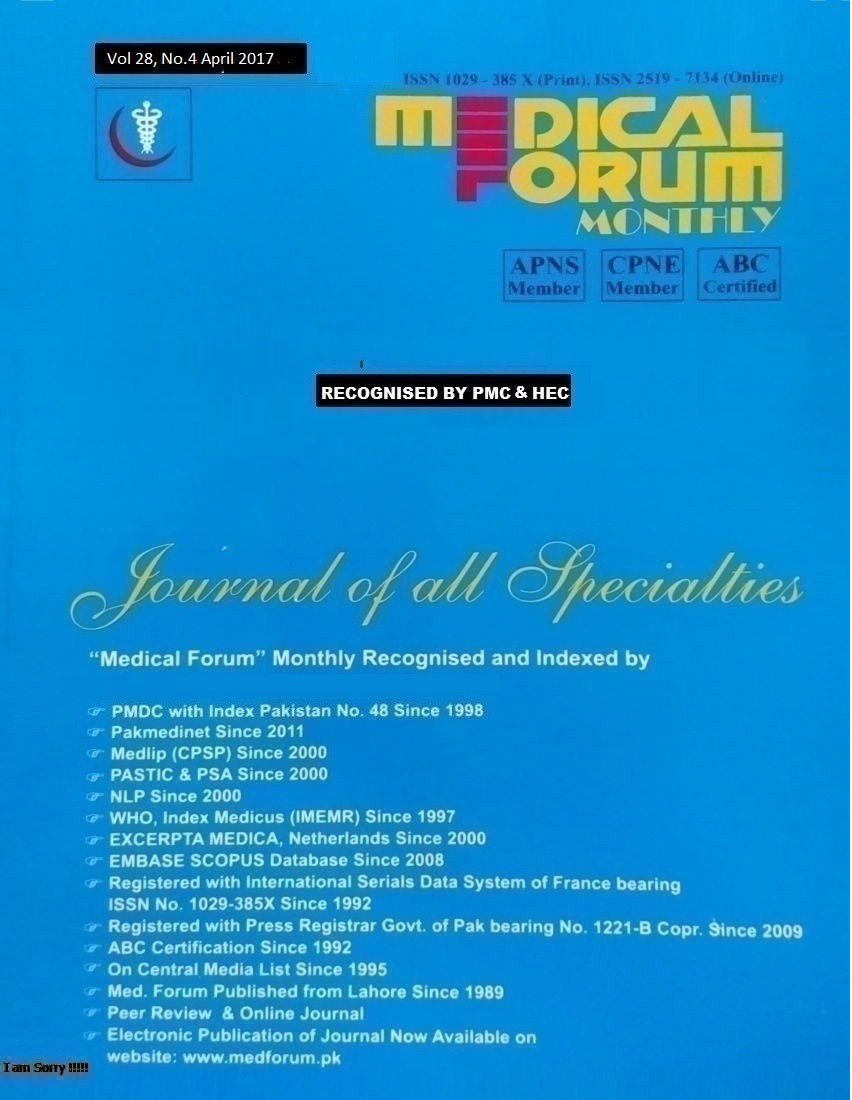 Admin
44. To Determine the Elevated C- Reactive Protein in Patients with Acute Myocardial Infarction
Shahid Memon1, Abdul Ghaffar Memon2 and Rajkumar Sachdewani1
ABSTRACT
Objective: To assess the frequency of elevated C reactive protein in patients those were admitted in the cardiology department after diagnosis of myocardial infarction.
Study Design: Cross sectional study.
Place and Duration of Study: This study was conducted at the Department of Cardiology, Liaquat University Hospital Hyderabad from October 2015 to march 2016.
Materials and Methods: In this study all the patients with diagnosis of MI were selected. Blood samples were drawn and send to the hospital laboratory to assess the CRP levels in all selected cases. On the collection of the reports CRP levels were noted. Data regarding age, gender, types of MI and levels of CRP were recorded in the proforma.
Results: Total 62 cases were incorporated in the study; mean age of the study participants was 46.5+6.24 years. Male gender was found in the majority 74.19%, while female were 26.81%.Typical chest pain was most common presentation in 88.70% of the cases, breathing difficulty was noted in 72.58%, sweeting, nausea/vomiting, palpitation, syncope and others were found with percentage of 56.45%, 45.16%, 24.19%, 19.35% and 32.25% respectively. Elevated CRP level was found in 73.58%, while 26.42% cases were with normal CRP level.
Conclusion: In the conclusion of this study elevated CRP level was most frequent in patients with acute MI. This may due to diabetic and hypertensive patients. More research is needed especially in diabetic and hypertensive patients.
key Words: Acute MI, CRP, Clinical presentation
Citation of article: Memon S, Memon AG, Sachdewani R. To Determine the Elevated C- Reactive Protein in Patients with Acute Myocardial Infarction. Med Forum 2017;28(4):170-173.