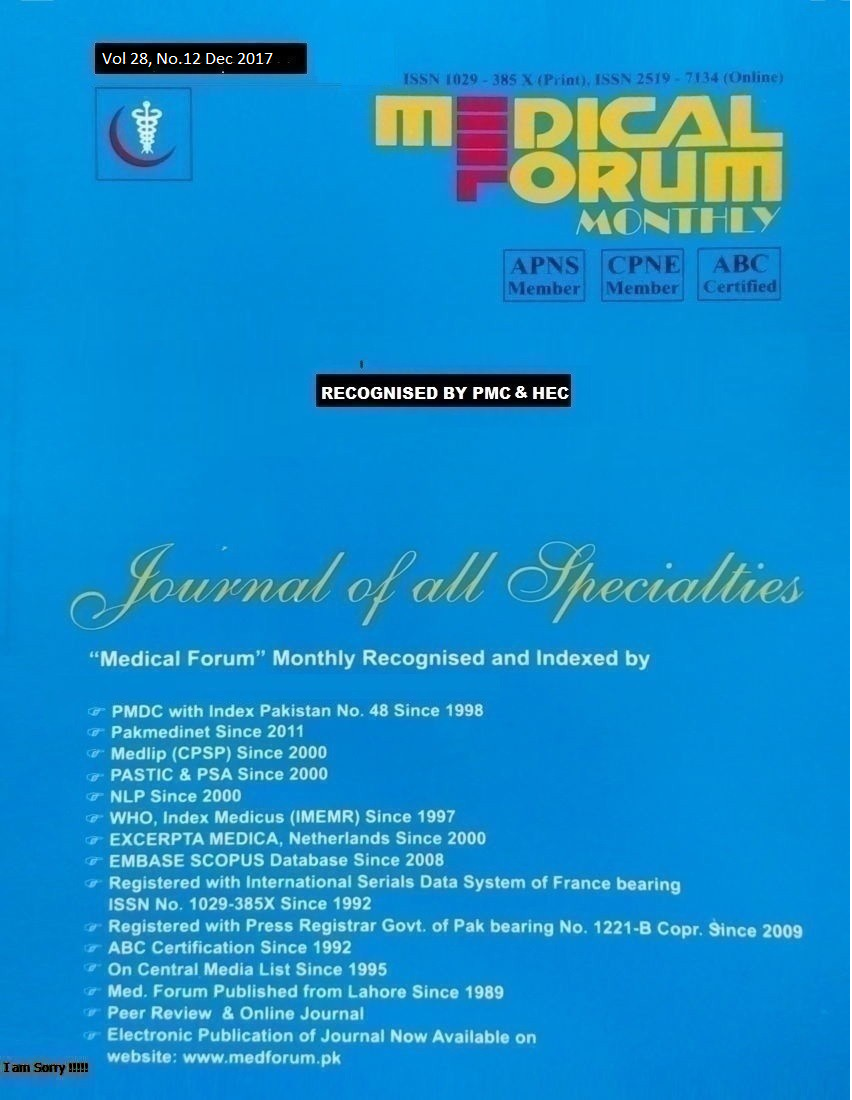 Admin
4. Rifaximin versus Placebo Preventing the Recurrence of Clinically Overt Hepatic Encephalopathy in Patients having Cirrhosis of Liver
Ahmad Nawaz Babar, Amjad Ali, Muhammad Amin Khan, Azfar Tanveer and Moeen ul Haq
ABSTRACT
Objective: This study was aimed to evaluate the efficacy of Rifaximin in preventing the recurrence of overt hepatic
encephalopathy in comparison to placebo in outpatients with recent history of overt hepatic encephalopathy two or
more episodes in the past six months.
Study Design: Randomised controlled trial.
Place and Duration of Study: This study was conducted at the Department of Medicine, Mardan Medical Complex, Mardan from Jan 2016 to June 2016.
Materials and Methods: Adult patients having cirrhosis of liver and with history of two or more episodes of acute hepatic encephalopathy in the past 6 months were randomized into either the Rifaximin or placebo group. Rifaximin or placebo was given 550mg twice daily for 6 months or till the recurrence of acute attack of hepatic encephalopathy. The study participants were followed weekly for first two weeks then 2 weekly till the end of therapy. The efficacy end point was the development of breakthrough hepatic encephalopathy episode.
Results: A total of 96 patients were enrolled in the study after fulfilling the inclusion criteria, they were randomized into either of the two groups with 1:1ratio. Patients in the Rifaximin group had lesser recurrence of the episodes of hepatic encephalopathy (17.77%) as compared to the placebo group (37.20%) and the difference was found to be statistically significant (p value = 0.002).
Conclusion: This placebo controlled randomized trial has shown that the Rifaximin therapy is more effective than
placebo in preventing hepatic encephalopathy recurrence.
Key Words: Rifaximin, Lactulose, Hepatic Encephalopathy
Citation of articles: Babar AN, Ali A, Khan MA, Tanveer A, Haq M. Rifaximin versus Placebo Preventing the Recurrence of Clinically Overt Hepatic Encephalopathy in Patients having Cirrhosis of Liver. Med Forum 2017;28(12):15-18.