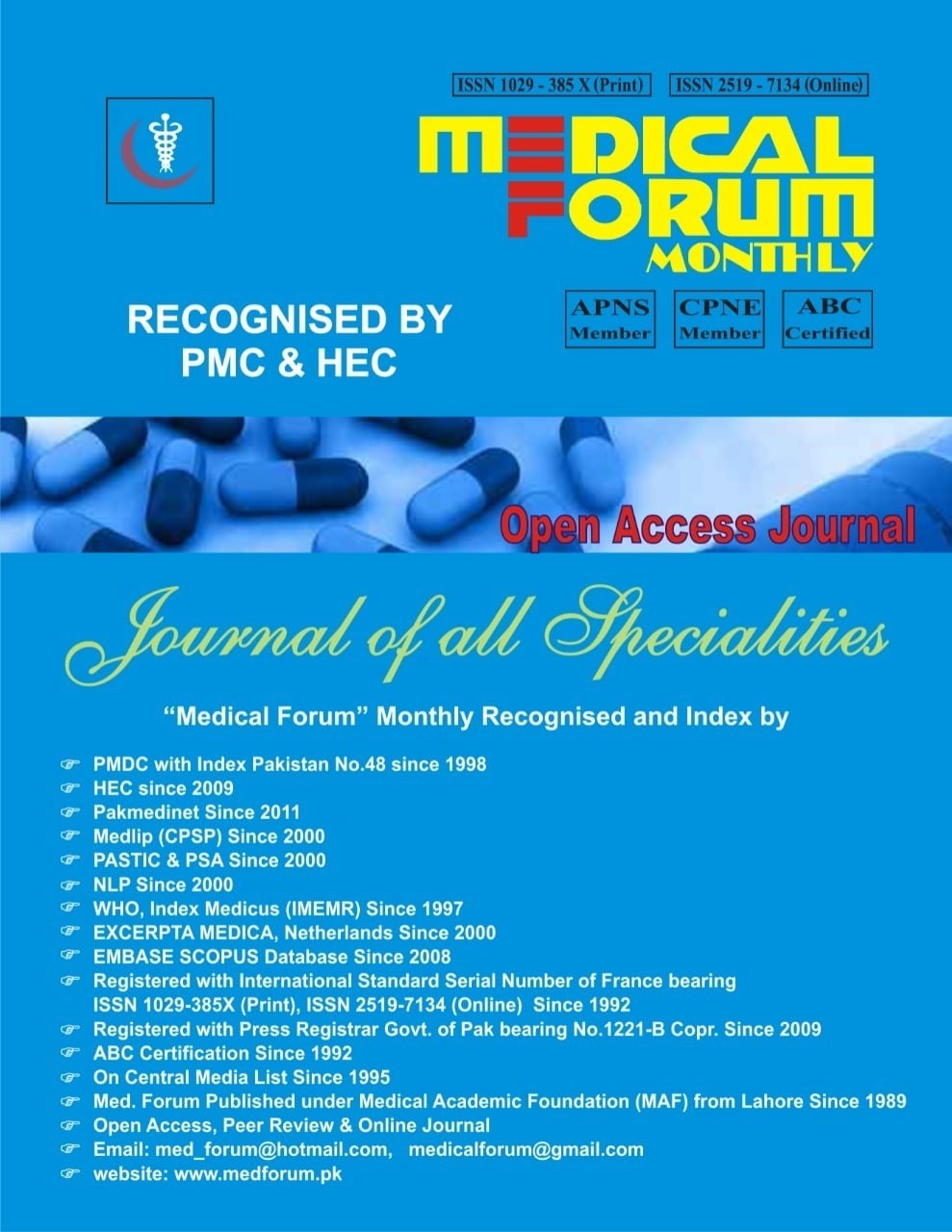 Admin
31.Assessment of Pregnant Females' Anxiety and Health Concerns During COVID-19 Pandemic
Sarwat Memon1, Nisa Mohsin1, Amber Naeem1, Fauzia Rahim1, Amna Salman1 and Andsaba Memon2
ABSTRACT
Objective: To determine level of anxiety in pregnant females during covid-19 using CAS scale and to determine pregnant women's maternal and fetal health concerns during COVID-19.
Study Design: Descriptive Cross sectional study
Place and Duration of Study: This study was conducted at the Outpatient department of Obstetrics and Gynaecology Isra University Hospital Hyderabad from January 2021 to March 2021 for a period of 03 months.
Materials and Methods: A convenience sampling technique was used to collect data from 180 pregnant women who had no previous psychiatric, missed abortion, or ectopic pregnancy history. A standardized CAS scale was used to assess each participant's level of anxiety about COVID-19, followed by a self-structured questionnaire to assess women's concerns about foetal and maternal health in the context of COVID-19. Frequency was calculated for all variables.
Results: The bulk of our patients were over 35 years old and multigravida, according to our results. Corona related anxiety was found in 63.8% of patients, and it had an impact (58%) on their lives, both in terms of their health (41.3%) and the health of their unborn child (53.8%).
Conclusion: Anxiety was shown to be present in majority of pregnant females with most of them being worried about the health of their unborn child.
Key Words: CAS scale, anxiety in pregnancy, corona related anxiety, health concerns, pandemic, mental health
Citation of article: Memon S, Mohsin N, Naeem A, Rahim F, Salman A, Memon A. Assessment of Pregnant Females' Anxiety and Health Concerns During COVID-19 Pandemic Med Forum 2021;32(9):134-137.