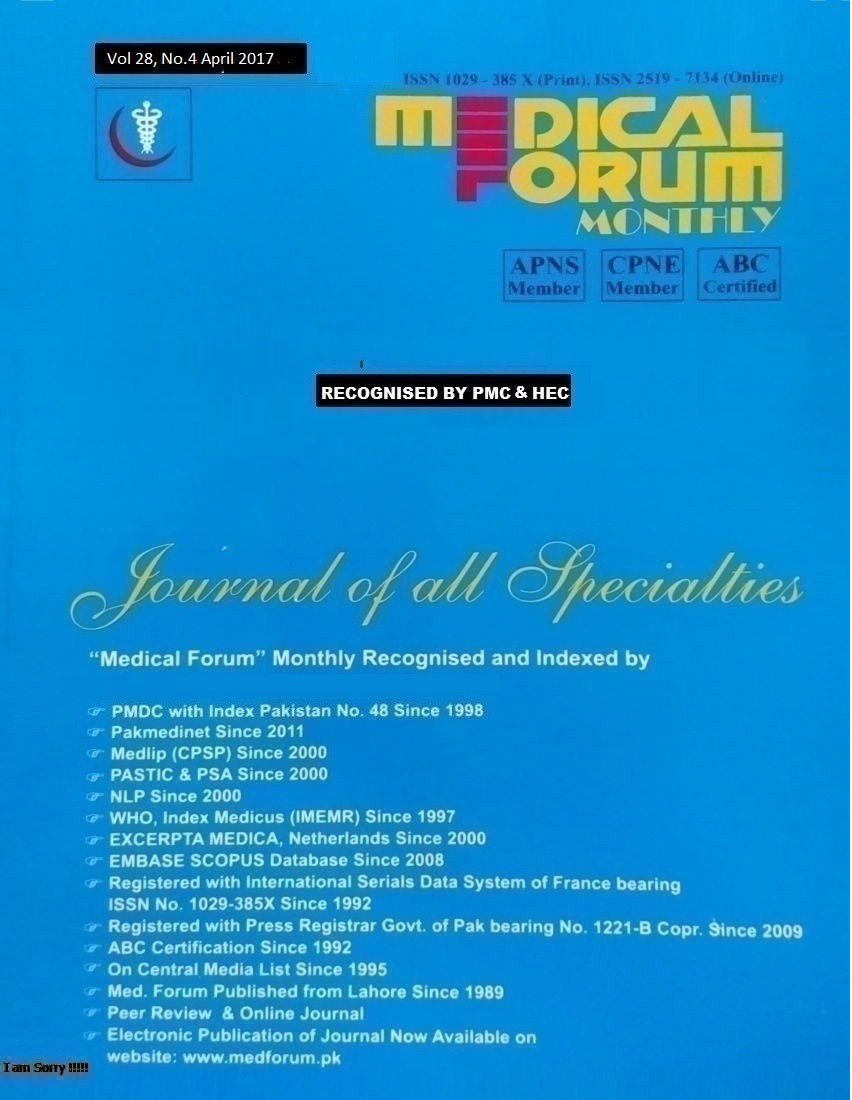 Admin
3. A Prospective Study Analyzing Short Term Effects of Intravitreal versus Intracameral Bevacizumab on Neovascular Glaucoma
Ali Afzal Bodla and Muhammad Afzal Bodla
ABSTRACT
Objective: A single centre prospective trial to study the short term efficacy of Intracameral versus intravitreal Bevacizumab 2.5mg in 0.1mlfor the treatment of neovascular glaucoma in terms of iris neovessel regression and control of intraocular pressure.
Study Design: Descriptive / Observational Study
Place and Duration of Study: This study was conducted at the Bodla Eye Care, Multan from March 2015 till
April 2016.
Materials and Methods: A total of 24 patients were recruited in the study. Study end point was 28 days/one month post intervention. Primary etiology of neovascular glaucoma was proliferative diabetic retinopathy and central retinal vein occlusion. Patients were divided into group A for intravitreal and Group B for Intracameral injections. Both groups received 2.5 mg in 0.1 ml of Bevacizumab administered by single surgeon in same settings.
Results: There was no significant change in pre and post-operative visual acuity in both groups. There was a remarkable regression of iris neovessel in both groups. Reduction in IOP was clinically significant in both groups i.e. p<0.01 for group A and p<0.05 for group B. Intracameral group was found to have more remarkable regression of fibro vascular membranes.
Conclusion: Intracameral injections of bevacizumab appears to be as effective as intravitreal administration of the drug for the short term control of pathology. Intracameral injections especially in Pseudophakics carries relative fewer incidences of devastating complications as endophthalmitis. Moreover IOP spikes post Intracameral injections are fewer after performing an anterior chamber paracentesis at the same time.
Key Words: Intravitreal, Intracameral Bevacizumab, Neovascular Glaucoma
Citation of article: Bodla AA, Bodla MA. A Prospective Study Analyzing Short Term Effects of Intravitreal versus Intracameral Bevacizumab on Neovascular Glaucoma. Med Forum 2017;28(4):9-12.