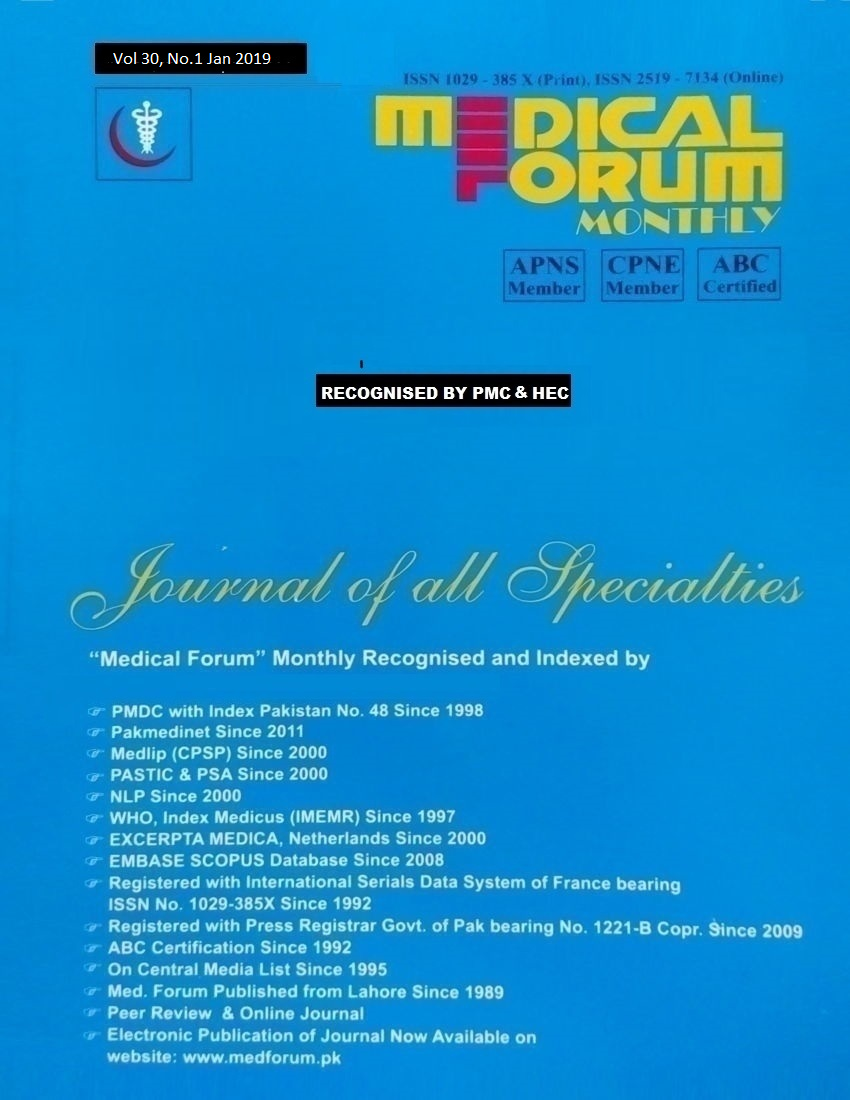 Admin
27. Efficacy of Rosuvastatin 10mg with Atorvastatin 20mg in Lowering Low Density Lipoprotein Cholesterol in Hypercholesterolemia Patients
Shahid Iqbal1, Fatima Iqbal2, Abida Pervaiz3, Hafiz Muhammad Tahir3, Neelofar Yousaf4 and Farhan Rasheed5
ABSTRACT
Objective: To measure the effectiveness of Rosuvastatin 10mg with Atorvastatin 20mg in lowering low density lipoprotein cholesterol.
Study Design: Retrospective study
Place and Duration of Study: This study was conducted at the Jinnah Hospital, Lahore from March 2017 to December 2017.
Materials and Methods: 252 patients were enrolled having equal subjects in each group, using efficacy of Rosuvastatin 50 %(1) and efficacy of atorvastatin 39 %(1) with 95% confidence interval and 80% power of test.
Results: In Rosuvastatin group mean age was 65 years with SD ± 1.61 with male patients 51% and female patients were 49%. While in Atorvastatin Group mean age was 63 years with SD ± 1.93 with 54% patients were male and 46% patients were female. Moreover it was showed that Rosuvastatin appeared to be potent among 82% of the individuals and was not efficacious in 18% of the individuals while Atorvastatin was efficacious in 71% of the individuals and was not beneficial in 29% of the individuals.
Conclusion: In individuals having hypercholesterolemia, it was found that atorvastatin 20 mg is non-superior than Rosuvastatin 10 mg in lowering LDL-C, enabling LDL-C goal towards healthy target values.
Key Words: Rosuvastatin, Atorvastatin, Hypercholesterolemia
Citation of articles: Iqbal S, Iqbal F, Pervaiz A, Tahir HM, Yousaf N, Rasheed F. Efficacy of Rosuvastatin 10mg with Atorvastatin 20mg in Lowering Low Density Lipoprotein Cholesterol in Hypercholesterolemia Patients. Med Forum 2019;20(1):116-120.