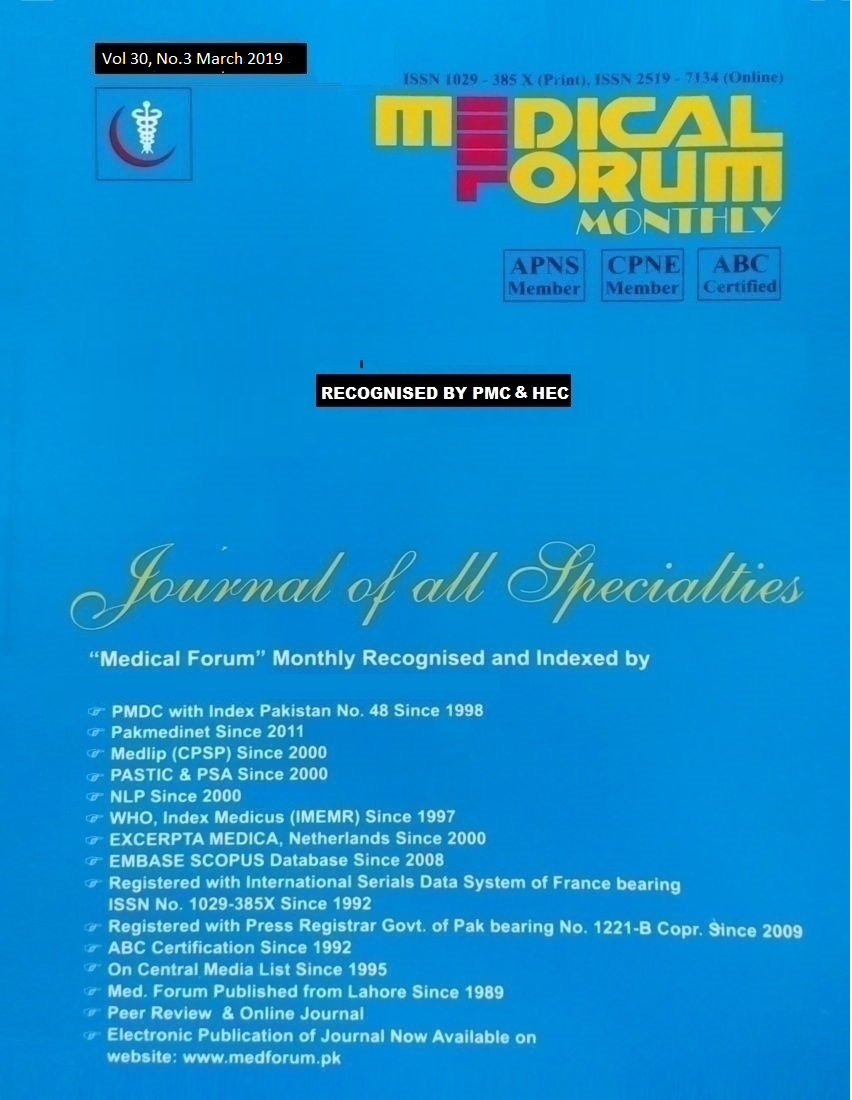 Admin
25. Assessment of Low Concentration and High Volume Intraperitoneal Bupivacaine in Producing Analgesia Following Laparoscopic Cholecystectomy
Shabbir Ahmed, Muhammad Fazal ur Rehman and Movahid Anwer
ABSTRACT
Objective: To assess low‑concentration and high volume intraperitoneal bupivacaine in producing analgesia following laparoscopic cholecystectomy.
Study Design: A prospective randomized controlled trial.
Place and Duration of Study: This study was conducted at the Department of General Surgery at Bakhtawar Amin Hospital and Medical College, Multan from March 2018 to July 2018.
Materials and Methods: All 110 patients were distributed into two equal groups. Peritoneal cavity was irrigated with a mixture of 480ml normal saline and 20ml of 0.5% bupivacaine in group-B and with 500ml normal saline in group-S. Analgesia duration, total analgesic requirement in first 24hours and NRS score recorded at extubation, 30minutes, 1, 3, 6, 12 and 24 hour postoperatively, were compared. Data was put in SPSS v.23 and compared with independent t-test and Chi square test, as applicable. P ≤0.05 was considered statistically significant.
Results: Age, weight, gender distribution, surgery duration, propofol requirement and MAC of isoflurane were not significantly different (p>0.05).The duration of analgesia was 17.64±3.54 hours in group-B and 0.83±0.49 hours in group-S (p<0.001). Total tramadol requirement within postoperative 24 hours was significantly more in group-S (p<0.001). The NRS score was significantly better in group-B at extubation, 30minutes, 1, 3, 6 hours (p<0.05) while at 12 and 24 hours, the difference was not statistically significant (p>0.05).
Conclusion: Bupivacaine in low concentration and high volumes is significantly effective in prolonging analgesia duration and improving NRS score after LC.
Key Words: bupivacaine, postoperative analgesia, laparoscopic cholecystectomy (LC).
Citation of article: Ahmed S, Rehman MF, Anwer M. Assessment of Low Concentration and High Volume Intraperitoneal Bupivacaine in Producing Analgesia Following Laparoscopic Cholecystectomy. Med Forum 2019;30(3):100-104.