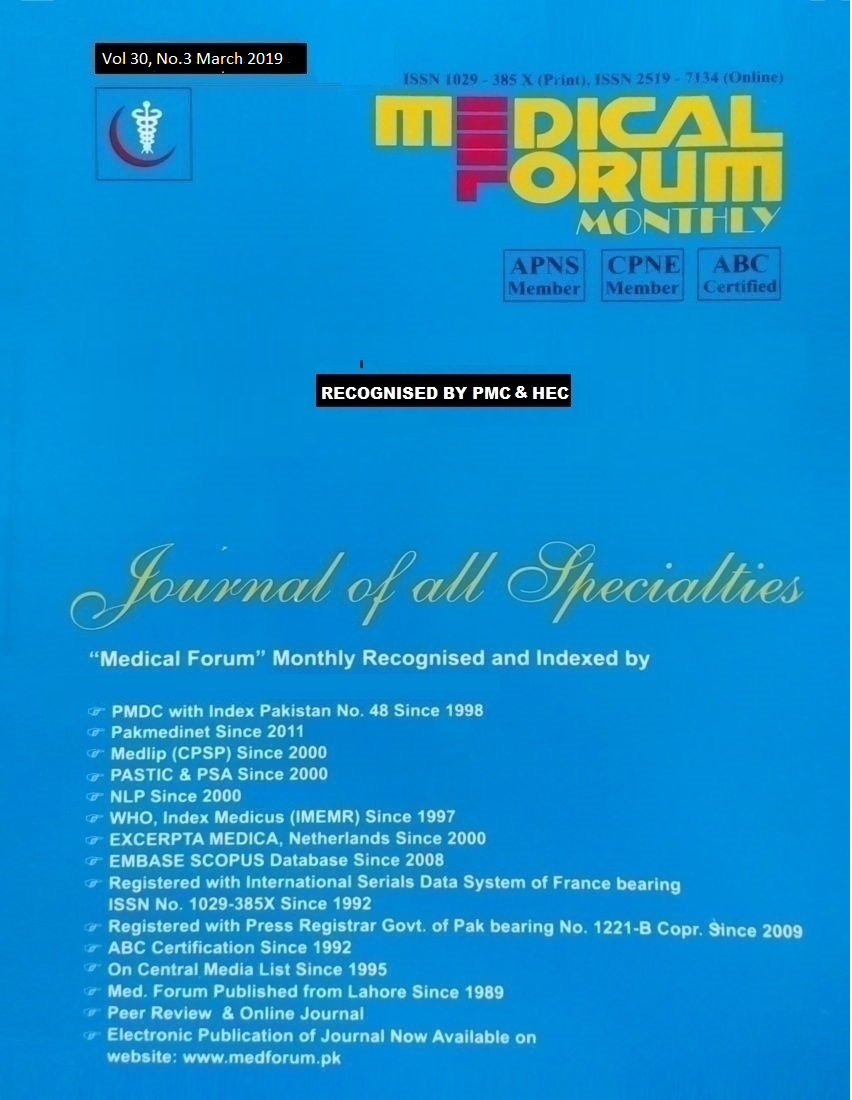 Admin
24. Frequency of Cerebrospinal Fluid Leakage in Patients with Caries Spine Treated with Cage Fixation Procedure with Anterior Approach
Mumtaz Ahmed1, Muhammad Feroz Nawaz1, Habib Ullah2 and Faisal Ali1
ABSTRACT
Objective: To determine the frequency of cerebrospinal fluid leakage in patients with caries spine treated with cage fixation procedure with anterior approach.
Study Design: Descriptive study
Place and Duration of Study: This study was conducted at the Department of Neurosurgery Bahawal Victoria Hospital, Bahawalpur from November 2014 to May 2015.
Materials and Methods: A total of 157 patients with proven tuberculosis and having significant kyphosis (>40° of segmental kyphosis) and instability (anteroposterior translation; >40° of segmental kyphosis), 30 to 60 years of age were included. Patients with h/o previous operation and those who were not willing to participate excluded from the study. All patients were followed for 1 month for presence or absence of CSF leakage (yes/no) and final outcome was noted.
Results: There were 102 (64.97%) males while 35.03% patients were females with mean age of 48.07±8.35 years (30-60 years). Cerebrospinal fluid leakage was found in 13 (8.28%) patients, whereas no CSF leakage in 144 (91.72%) patients.
Conclusion: The cage fixation procedure with anterior approach is safe and effective with low rate of cerebrospinal fluid leakage.
Key Words: Pott's disease, Surgery, Anterior approach, Cerebrospinal fluid, Leakage
Citation of articles: Ahmed M, Nawaz MF, Habibullah, Ali F. Frequency of Cerebrospinal Fluid Leakage in Patients With Caries Spine Treated With Cage Fixation Procedure With Anterior Approach. Med Forum 2019;30(5):92-95.