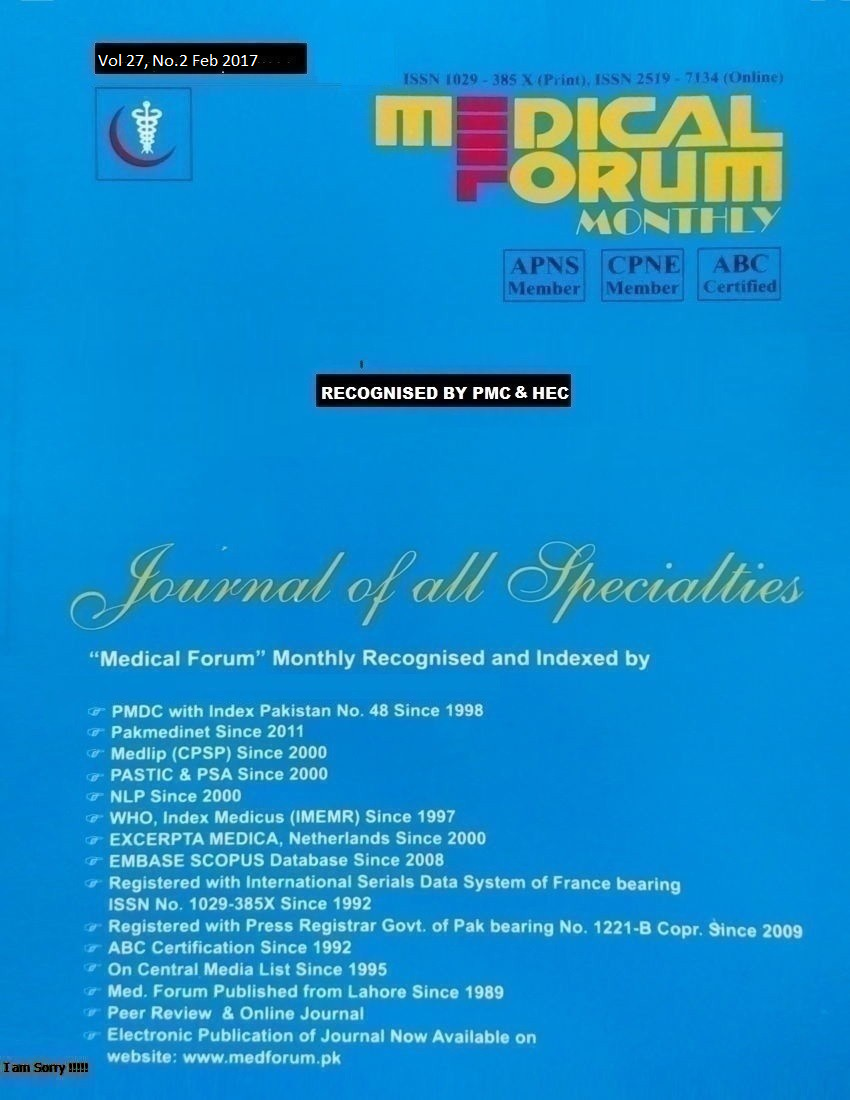 Admin
2. Tension-Free Mesh Repair of Inguinal Hernias; The Lichtenstein Technique – A Feasible Option
Mohammad Ayub Jat
Asstt. Prof. of Surgery, Ghulam Muhammad Maher Medical College, Sukkur. Sind
ABSTRACT
Objective: The objective of study is to determine the feasibility, safety and effectiveness of Lichtenstein technique the tension free mesh repair of inguinal hernias and also to record the early and late postoperative complications of hernioplasty.
Study Design: Prospective study
Place and Duration of Study: This study was carried out at the Department of Surgery, Unit-I Glulam Muhammad Maher Medical College Teaching Hospital, Sukkur from May 2009 to April 2012.
Materials and Methods: Total 210 male patients with inguinal hernias admitted through OPD as an elective cases were included in this study .Exclusion criteria was patients with obstructed inguinal hernia came in emergency department. Clinically 20% patients had bilateral and 80 % had one sided inguinal hernias. Mean age of the patient was 45 years (range, 18– 70 years) .189 patients ( 90%) were operated under s inal anesthesia while remaining 21
patients (10%) under general anesthesia .All patients were follow-up for the eriod of 2 years in the out –patient
department .
Results: The present study showed the early and late postoperative c mplications (morbidity = 8%) such as retention of urine in 4 patients (2%), Hematoma in 3 patients (1.5%), ser ma f rmation in 2 patients ( 1 %) , Cord induration in 3 patients (1.5 %) and postoperative neuralgia in 4 patients( 2%). After a follow-up for 2 years, there was no evidence of recurrence or mesh rejection.
Conclusion: This study showed that Lichtenstein tens on- free hernioplasty is a simple, feasible and safe technique for repair of inguinal hernias with a low recurrence rate and low morbidity . Key Words: Inguinal hernias, Lichtenstein tension free her oplasty, Recurrence
Citation of article: Jat MA. Tension- Free Mesh Repair of Inguinal Hernias; The Lichtenstein Technique – A Feasible Option. Med Forum 2016;27(2):7-9.