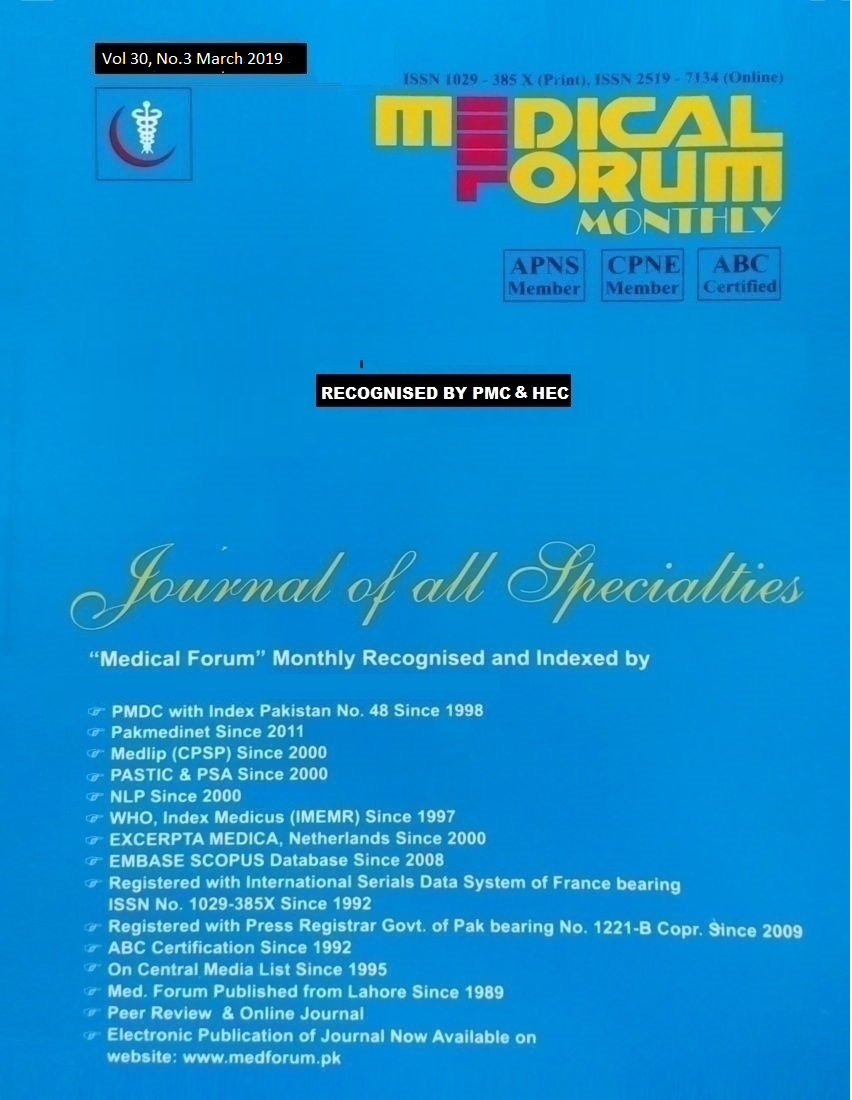 Admin
2. Determine the Prevalence of Obstructed Labour also Examine the Causes, Mortality and Complications Associated to Obstructed Labour
Uzma Afridi1, Maryam Shoaib2 and Sakina Naeem2
ABSTRACT
Objective: To examine the frequency of obstructed labour in our hospital, also determine the complications, causes and mortality associated obstructed labour.
Study Design: Descriptive / cross-sectional study
Place and Duration of Study: This study was conducted at the Department of Obstetrics & Gynecology Bolan Medical Complex Hospital, Quetta from January 2017 to June 2017.
Materials and Methods: A total of 82 confirmed cases of obstructed labour were included. Patient's ages were ranging from 16 to 45 years. Patient's detailed history including socio-economic status, booking status, parity were examined after taking informed consent. Causes, complications associated to obstructed labour were examined. Mortality was recorded.
Results: Twenty two patients were ages between 16 to 24 years, 43 patients were ages 25 to 34 years, 17 patients were ages above 34 years. Sixty five (79.27%) patients had rural residency. Nine (10.98%) patients were booked while 89.02% patients were un-booked. Forty six (56.10%) patients were primiparous, 31 (37.80%) patients were multigravida with parity 2 to 4 and 5 patients with parity >5. Most common cause of obstructed labour was noted as cephalopelvic disproportion in 52 (63.41%) patients and most frequent complication of obstructed labour was maternal pyrexia in 29 (35.37%). Mortality occurred in 3 (3.66%) patients.
Conclusion: Incidence of obstructed labour was most common in age group 25 to 34 years and mostly patients had rural residency. Early and accurate diagnosis and early treatment can reduce the rate of maternal and perinatal mortality and morbidity due to obstructed labour.
Key Words: Obstructed labour, Maternal mortality, Uterine rupture, C-Section, Postpartum hemorrhage.
Citation of article: Afridi U, Shoaib M, Naeem S. Determine the Prevalence of Obstructed Labour
also Examine the Causes, Mortality and Complications Associated to Obstructed Labour. Med Forum 2019;30(3):6-9.