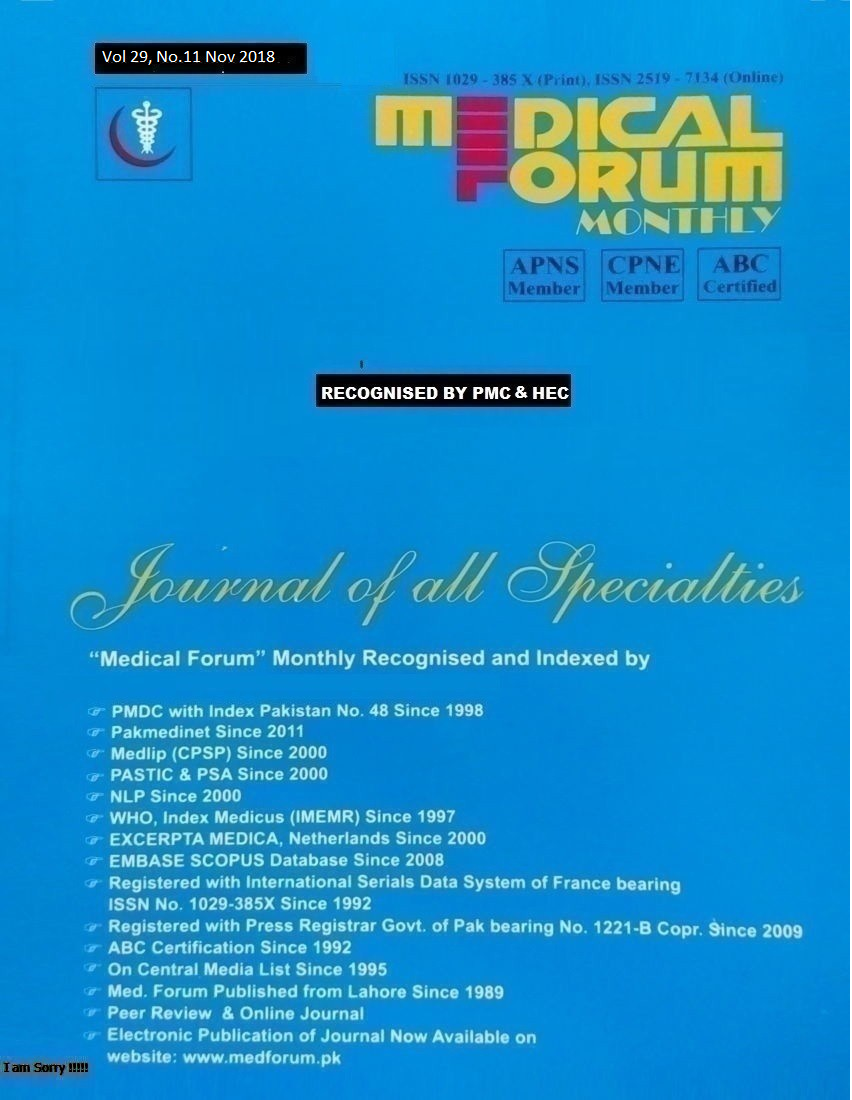 Admin
19. Success of Perfluoro Propane Gas (C3F8) Injection in Resolution of Vitreomacular Traction in Older Adults
Ali Zain-ul-Abidin, Shahid Mahmood Dayal and Hasnain Mohmammad Buksh
ABSTRACT
Objective: To assess the success of single injection of C3F8in treatment of vitreomacular traction in adult patients.
Study Design: Quasi experimental trial
Place and Duration of Study: This study was conducted at the Department of Ophthalmology, Allama Iqbal Memorial Teaching Hospital, Sialkot from June 2017 to December 2017.
Materials and Methods: Eighteen eyes of 18 patients, or either gender with symptomatic VMT (width: 50-1500µm) due to idiopathic cause were included. Diabetic patients or patients with traction causing macular hole were not included. Spectral domain OCT were used to diagnose and finalize the cases. The patients were prepared and after proper aseptic measures were taken and injected with 0.3 ml of pure C3F8 gas intravitreally instead of doing parsplanavitrectomy (PPV). The patients were observed for the release of traction 3 months after injection. Resolution of traction was observed on OCT on every monthly visit. Success was noted in terms of resolution of VMT and patients were also evaluated for any sort of complications.
Results: The mean age of patients was 59.72±2.42years. There were10 males and 8 females presented with VMT. Mean VMT was 746.78±381.86µm. Out of 18 eyes, in 10 (55.5%) eyes complete resolution of VMT was achieved within one month after a single injection. Out of 8 remaining, 4 (50%) had resolution after 3 months without any further injection. However, in 4 (50%) patients, VMT could not be resolved and PPV was done to release the VMT. No complication was observed with C3F8 Gas injection in any patient.
Conclusion: Intravitreal perfluoro propane gas (C3F8) injection is an effective and safe method to release VMT in adults andsingle dose of C3F8 has a success rate of 77.8%.
Key Words: Intravitreal perfluoro propane gas injection, Vitreomacular traction, Parsplanavitrectomy, Intravitreal injection, C3F8 gas
Citation of articles: Abidin AZ, Dayal SM, Buksh HM. Success of Perfluoro Propane Gas (C3F8) Injection in Resolution of Vitreomacular Traction in Older Adults. Med Forum 2018;29(11):67-70.