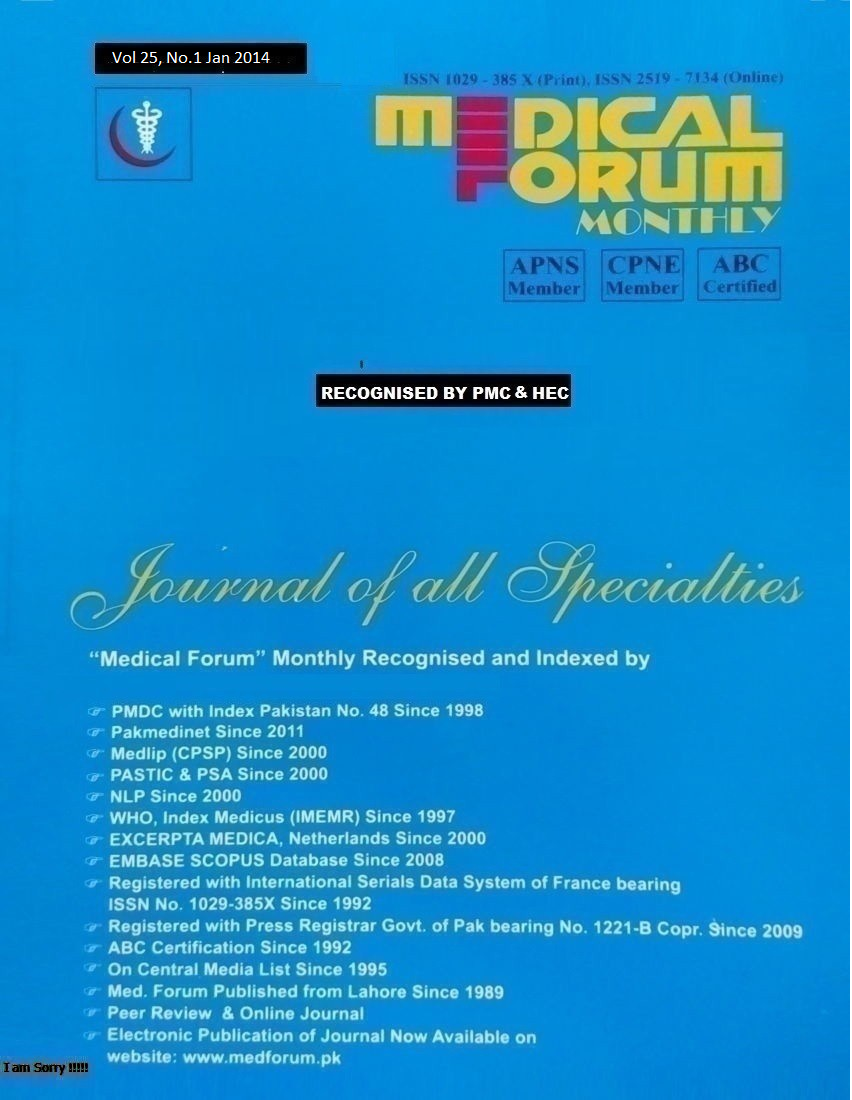 Admin
19. Incidence of Malignant Lymphomas in Balochistan
1. Zahid Mehmood 2. M.Hanif Mengal 3. Haroon ur Rasheed
4. Hafiz Khush Naseeb Ahmed
1. Asstt. Prof., Dept. of Radiotherapy & Oncology, BMCH, Quetta 2. Asstt. Prof., Haematology Section, BMCH, Quetta 3. Ex- Asstt. Prof., Dept. of Radiotherapy & Oncology, BMCH, Quetta 4. Director CENAR, Quetta.
ABSTRACT
Background: Traditionally lymphomas are classified into Hodgkin's disease (HD) and Non Hodgkin's lymphoma (NHL) depending upon histo-pathological evidence on biopsy taken from an enlarged lymph node. Delayed diagnosis in lymphoma deteriorates the health eminence resulting in poor outcome.
Objectives: The aim of the study is to estimate the incidence and clinical presentation of malignant lymphomas in Balochistan.
Study Design: Prospective Study
Place and Duration of Study: This study was carried in the Department of Radiotherapy & Oncology, Bolan Medical Complex Hospital, Quetta from June, 2006 to May, 2012
Materials and Methods: A total of 263 newly diagnosed patients of both types of lymphoma from different parts of Balochistan were registered in Bolan Medical Complex Hospital in Department of Radiotherapy & Oncology. Followed by histopathology, WHO classification and Ann Arbor staging was done to assign subtype and extent of disease.
Results: It was found that the incidence of Non Hodgkin's lymphoma a (64.7%) was greater than Hodgkin's disease
(35.2%) and both present bimodal distribution in age. Male patients dominate female patients in both cases (2.5:1). Lymph-adenopathy of cervical region was primary site in 44 % of cases while 27.6 % were extra nodal.
Histopathology shows 57.4 % mixed cellularity variant in Hodgkin's lymphoma and 25.5% diffuse B cell pattern in Non Hodgkin's lymphoma. Ann Arbor staging reveals that 3.4% cases present with stage I and 64.5% show stage IV.
Conclusion: To conclude Non Hodgkin's lymphoma is two times more frequent than Hodgkin's lymphoma with greater male contribution. Due to delayed diagnosis resulted in late stage presentation ,health awareness is needed for physicians and general population for availability of patients at a due time for management.
Key Words: Hodgkin's lymphoma, Non Hodgkin's lymphoma, Lymph-adenopathy.