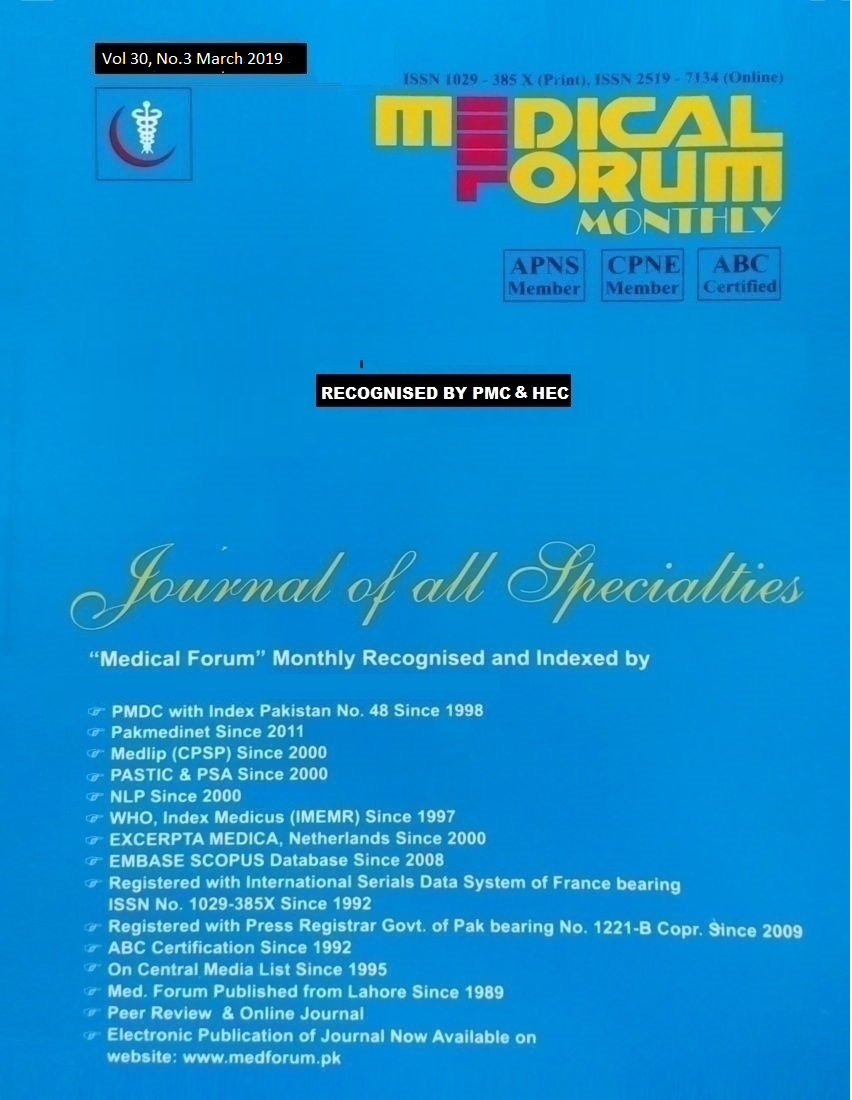 Admin
19. Comparison of Bilateral Lateral Rectus Recession versus Unilateral Rectus Recession Along With Medical Rectus Resection in Patient with Large Angle Exotropia: A Randomized Controlled Tria
Sidra Naseem1, Fuad Ahmad Khan1 and Rehana Gull2
ABSTRACT
Objective: To compare outcome of bilateral lateral rectus recession (BLR) versus unilateral lateral rectus recession along with medial rectus resection (RR) in patients with large angle exotropia.
Study Design: Randomized control trial
Place and Duration of Study: This study was conducted at the Department of Ophthalmology Unit, Holy Family Hospital, Rawalpindi from January 2017 to November 2017.
Materials and Methods: A total of fifty patients (25 in each group) were finally enrolled and underwent surgical correction of extropia. Patients with large angle exotropia of > 100 PD were enrolled and were randomly assigned to two treatment groups. Group A underwent BLR and Group B underwent RR procedures. Patients were followed for 6 months and successful alignment rate was estimated.
Results: At six month after surgery, 14 patients (56%) in the BLR group achieved successful alignment, while in RR group, 18 patients (72%) patients achieved successful alignments. A total of 10 patients (40%) had under correction of 10-14 PD and 1 patient (4%) had under correction of 25 PD in the BLR group; while RR group showed 4 patients (16%) had under correction of 10-14 PD; 2 patients (8%) had under correction of 25PD and 1 (45) had under correction of 40PD (P=0.221).
Conclusion: There is no significant difference in successful alignment rate at six month after surgery in both groups. We suggest further longitudinal studies with larger samples size and with longer duration of follow up.
Key Words: Intermittent exotropia, bilateral lateral rectus recession, Unbilateral lateral rectus recession
Citation of article: Naseem S, Khan FA, Gull R. Comparison of Bilateral Lateral Rectus Recession versus Unilateral Rectus Recession Along With Medical Rectus Resection in Patient with Large Angle Exotropia: A Randomized Controlled Trial. Med Forum 2019;30(3):75-78.