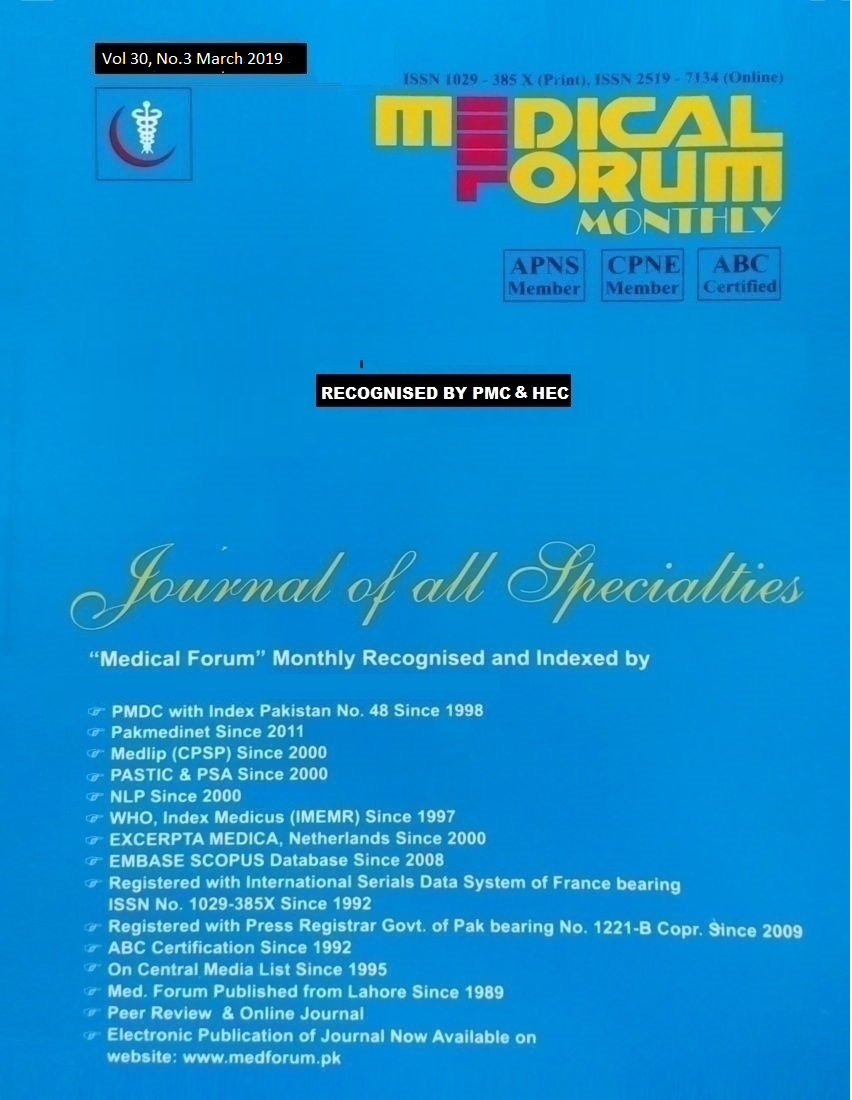 Admin
17. Topiramate for Migraine Prophylaxis in Children
Syed Fawad Saleem, Imran Qaisar and Abdul Rehman
ABSTRACT
Objective: To determine the efficacy and safety of topiramate (TPM) for profylaxis of migraine in children
Study Design: Quasi-experimental study
Place and Duration of Study: This study was conducted at the Pediatric Department, Bahawal Victoria Hospital affiliated with Quaid e Azam Medical College, Bahawalpur from January 2018 to November 2018.
Materials and Methods: A total of 60 children with migraine, aged 5 to 15 years, fulfilling the inclusion and exclusion criteria, were enrolled. TPM as 2 mg / kg / day was used twice a day in equally divided dosage. Monthly frequency, headache's duration along with its severity and pedMIDAS score were noted prior and after three month of TPM therapy.
Results: Out of a total of 60 children, majority of the children, 35 (58.3%) were female, had migraine type without aura 37 (61.7%) and family history of migraine in 49 (81.7%). Mean age of the children was 9.77+2.8 years whereas mean age of migraine onset amongst all the children was 7.43+ 2.9 years. When children with good response of TPM were compared with no good response, headache frequency (monthly), headache severity, duration of headache and headache disability (pedMIDAS) was significantly decreased after TPM treatment (p value < 0.05).
Conclusion: TPM was found to be effective and safe in children for prophylaxis of migraine. TPM reduced frequency, severity along with duration and disability of migraine headache with very few side effects.
Key Words: Headache, severity, frequency, topiramate, Migraine
Citation of article: Saleem SF, Qaisar I, Rehman A. Topiramate for Migraine Prophylaxis in Children. Med Forum 2019;30(3):71-74.