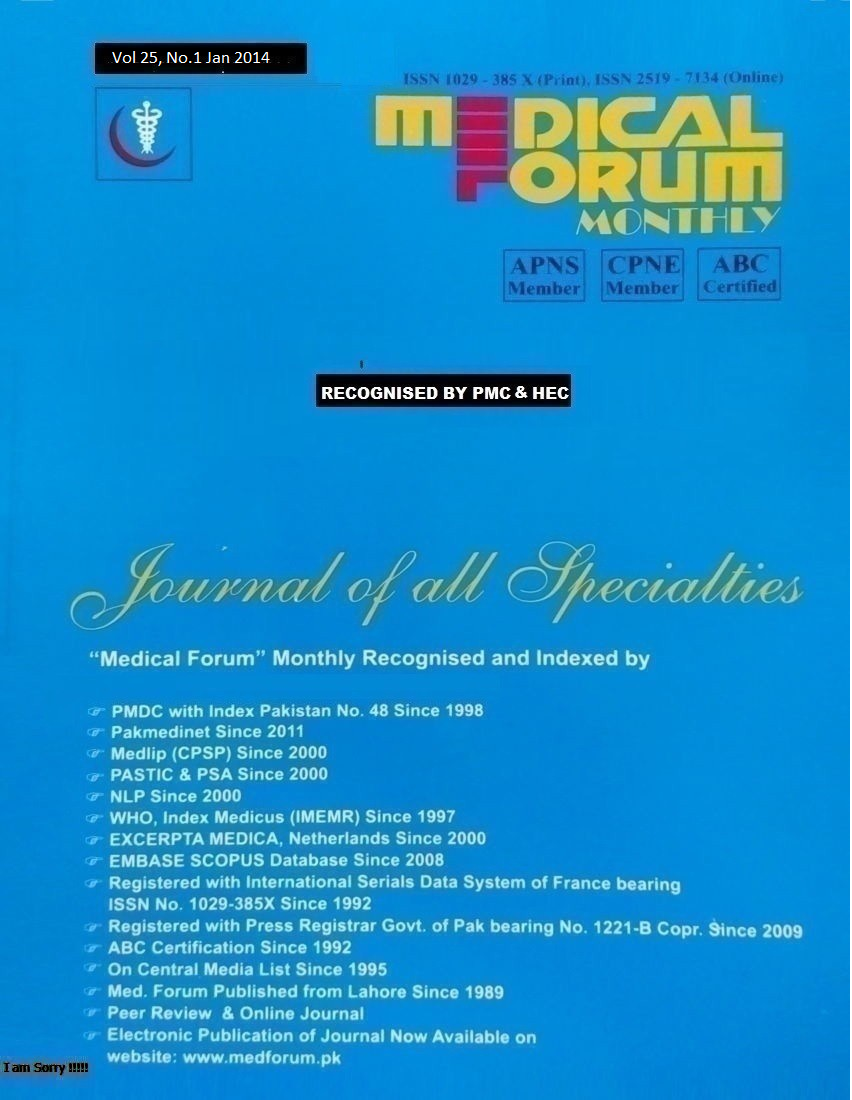 Admin
16. To Assess the In vitro Genotoxicity of Metformin and Aspartame alone & In Combination
1. Amna Nazar 2. Rafique Ahmed 3. Sajida Bano 4. Muhammad Ashraf 5. Imran Altaf
6. Aqeel Javeed
1. Senior Lecturer of Pharmacology, HM&DC, Gujrat 2. Prof. of Anatomy, HM&DC, Gujrat 3. Prof. of
Biochemistry, HM&DC, Gujrat 4. Prof. & Chairman of Pharmacology, UVAS, Lahore 5. Asstt. Prof. of
Microbiology, UVAS, Lahore 6. Asstt. Prof. of Pharmacology, UVAS, Lahore
ABSTRACT
Objective: Metformin is a known oral antidiabetic agent belonging to the class of biguanides, widely prescribed for the treatment of type 2 Diabetes Mellitus (DM). In this study the genotoxic potential of metformin was studied alone and in combination with an artificial sweetener aspartame as most of the diabetic patients utilized this low calorie sweetener to reduce their sugar consumption per day. Many complaints regarding its potential to cause DNA damage have been submitted to FDA Study Design: Experimental study
Place and Duration of Study: This study was carried out at the Department of Pharmacology and Toxicology, University of Veterinary and Animal Sciences Lahore from 1st Jan 2011 to Dec 2011.
Materials and Methods: Peripheral Blood Lymphocytes were exposed to various concentrations of metformin, aspartame and their combination. DNA damage was checked by comet assay. The data was analyzed by using Analysis of Variance (ANOVA) by Statistical Package of Social Sciences SPSS
Results: Exhibited dose dependant rise in comet tail lengths. Moreover the data advocates that tail lengths of lymphocytes after exposure to aspartame were high as compared to metformin. When lymphocytes were exposed to combination of aspartame and metformin and DNA damage was checked by comet assay, the results were significantly different (p<0.05) as compared to metformin and aspartame alone.
Conclusion: It can be concluded from the present study that aspartame is posing great genotoxic threat to the cells as compared to metformin and the combination is even more toxic to DNA, so the drug regime of diabetic patient must be closely monitored. There is further need of more studies in this regard.
Key Words: Metformin, Aspartame, Diabetes Mellitus, Comet Assay. DNA damage.