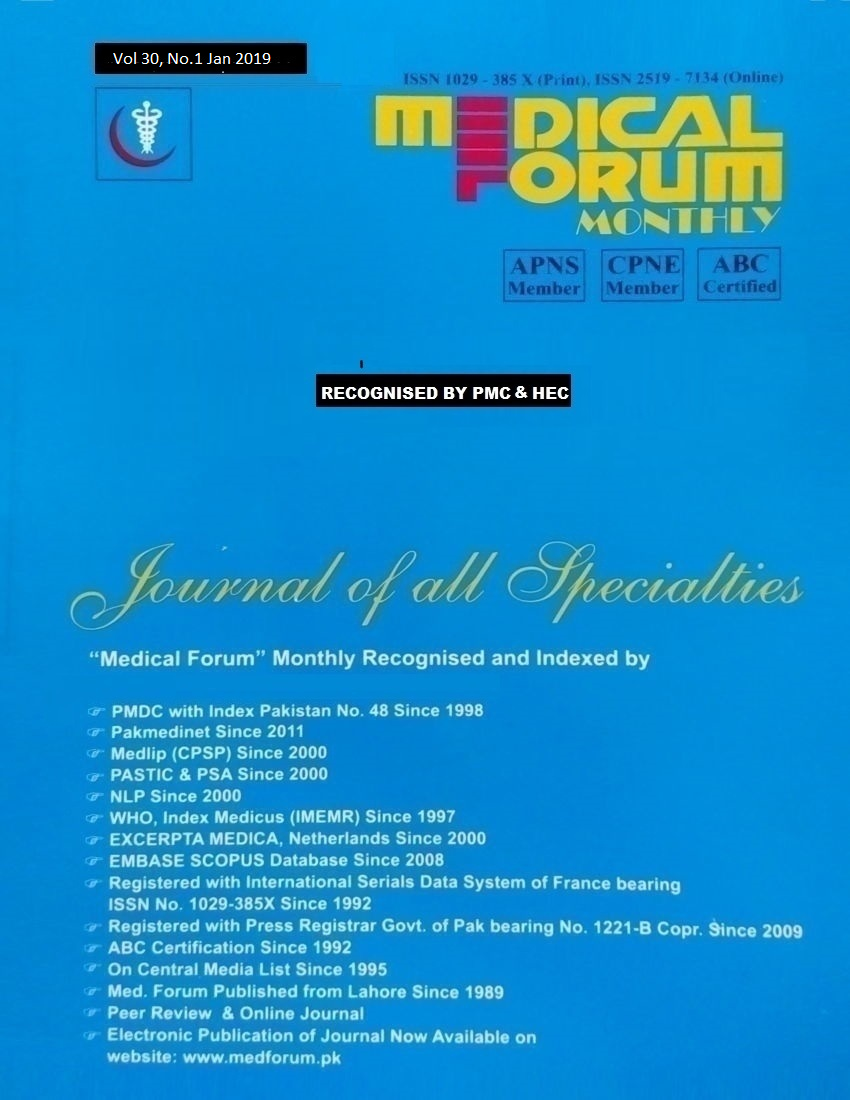 Admin
16. Factors Responsible for Tension Headache Among Medical Students in Karachi
Faheem Ahmed, Tafazzul H Zaidi and Kiran Mehtab
ABSTRACT
Objective: To assess the frequency of tension headache episodes among medical students in Karachi.
Study Design: Cross-sectional study.
Place and Duration of Study: This study was conducted at the Sindh Medical College, Dow Medical College and Sindh Institute of Oral Health Sciences, Karachi from April 2018 to November 2018.
Materials and Methods: Non-probability purposive sampling. An informed verbal consent was taken from the candidates. Pilot study was conducted to assess the authenticity of the questionnaire. A structured questionnaire was then distributed, got filled, data was entered and analyzed using SPSS version 20, with 95% confidence interval and 0.05 p-value.
Results: A total of 429 medical students of DMC, SMC and DIKHIOS were asked about the tension headache. Out of these 307(71.6%) were female and 122(28.4%) were male. Among these, 79.7% of students felt tension headache during exams, 9.8% felt it before presentation, and 5.4% felt due to undue circumstances of the city, 3.3% while watching T.V and 1.9% felt while watching news. About 44.3% of these students felt more tension headache/anxiety in examination hall, 23.1% at home, 16.3% experience it at some new place, 10.3% at university and 6.1% at their work.70.9% of these students could not concentrate on their studies due to tension headache, 9.8% could not concentrate on their health, 8.6% on their work, 5.8% could not give attention to their family and 5.1% could not tend to their outdoor activities. According to 48% of the medical students, tension headache got relieved by sleeping while 23.5% used tea/coffee to get rid of it, 14.5% students did other activities, 9.1% listened to songs and 4.9% got relieved by smoking. 64.3% students felt their GPA/grade was not affected by tension headache and 57.1% avoided socializing when they had tension headache and 63.9% of them thought that the tension headache was not affecting their relationship with friends and family.
Conclusion: This study concluded that stress and anxiety is the most common complaint among medical students this leads to tension type headache due to numerous psychological and physical stressors, tough medical curriculum and socio-economic conditions.
Key Words: Tension headache, anxiety/stress, impact, medical students
Citation of articles: Ahmed F, Zaidi TH, Mehtab K. Factors responsible for Tension Headache Among Medical Students In Karachi. Med Forum 2019;20(1):63-67.