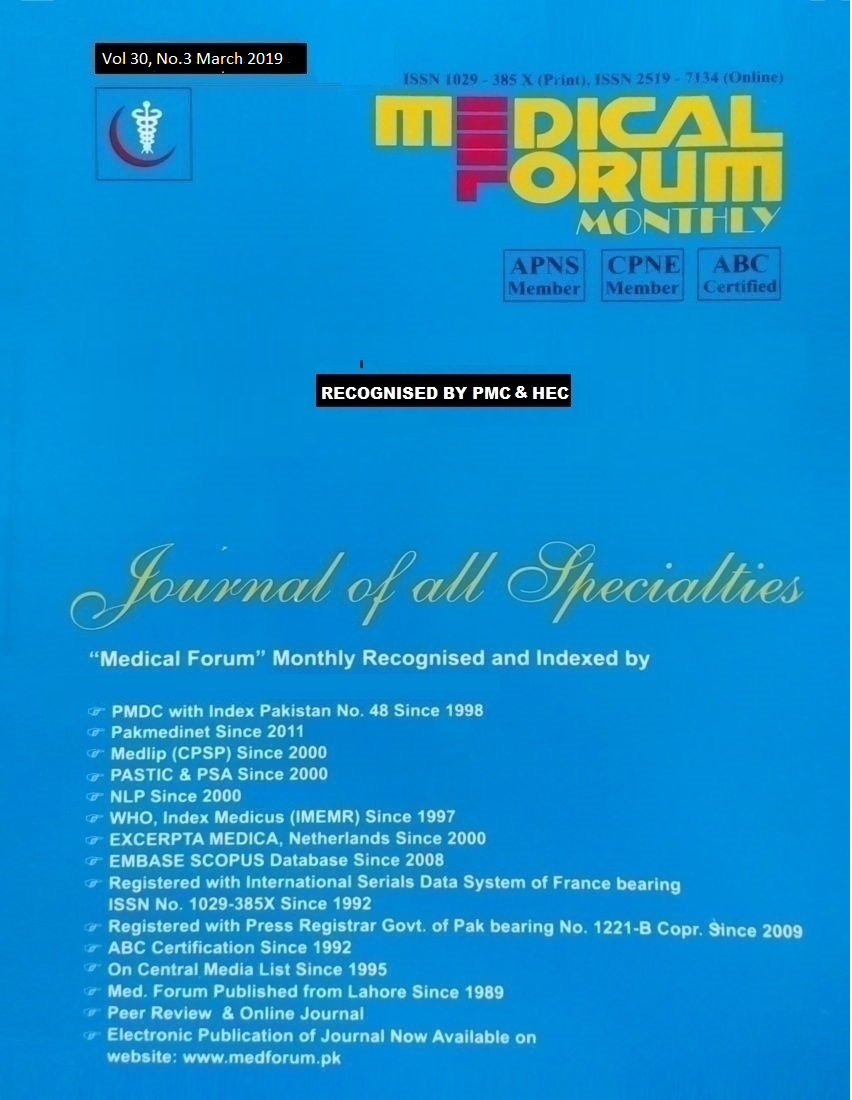 Admin
15. Gender-Based Comparison of Body Mass Index, Red Blood Cell Indices and Mentzers Index in Medical Students
Saleem Ullah Abro1, Mohammad Saleh Soomro1, Quratulain Saleem3. Sarwat Sultana3, Farhat Jafri3 and Inayat Jafri2
ABSTRACT
Objective: To assess body mass index, red blood cell indices and mentzers index in medical students.
Study design: Comparative Cross-sectional study.
Place and Duration of study: This study was conducted in Physiology department of Baqai Medical University, Karachi from February 2017 to August 2017.
Materials and Methods: A total of 500 students were enrolled. Anthropometric measurements and Completed blood count i-e Hb%, Red Blood Cell Count, Mean Corpuscular Volume (MCV), Mean corpuscular hemoglobin (MCH), Mean corpuscular hemoglobin concentration (MCHC), Red cell distribution width (RDW) was done and Mentzer's Index were calculated. Data were analyzed by using SPSS version 22.0.
Results: Among the categories of Body mass index, It was seen in this study participants that only mean values of overweight, when compared in males (27.33±1.47) and females (26.67±1.40) showed statistically significant(p<0.05) difference and mean values of hemoglobin comparison in males (13.75±2.05) and females (12.83±1.96), the mean Red Blood Cell Count comparison in males (5.08±0.71) and females (4.88±0.75), the mean Mean Corpuscular Volume comparison in males (81.49±8.08) and females (79.82±8.81) showed statistically significant (p<0.05) difference, but mean values of Mentzer's Index comparison had showed statistically non-significant (p>0.05) differences in this study.
Conclusion: With regard to our study results Body mass index (only overweight), and complete blood count (hemoglobin, red blood cell count and mean corpuscular volume) showed statistically significant values in gender based comparison. So it is considered as major issues for health of participants.
Key Words: Anemia; Body mass index (BMI); Obesity.
Citation of article: Abro S, Soomro MS, Saleem Q. Sultana S, Jafri F, Jafri I. Gender-Based Comparison of Body Mass Index, Red Blood Cell Indices and Mentzers Index in Medical Students. Med Forum 2019;30(3):61-65.