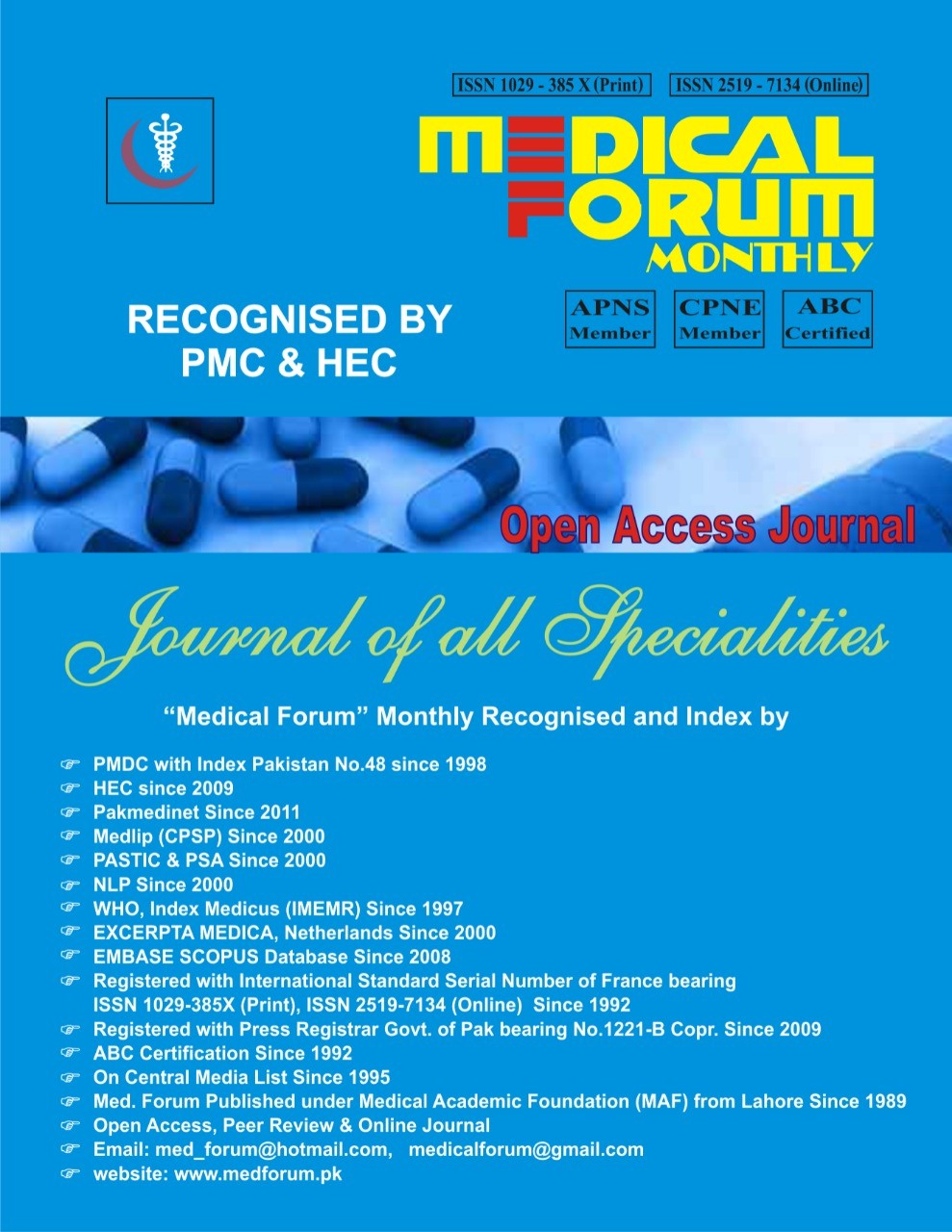 Admin
14.Comparison of Frequency of Upper Gastrointestinal Bleeding With and Without the Use of Proton Pump Inhibitors in Patients of Chronic Kidney Disease Undergoing Hemodialysis
Arslan Akbar Saeed1, Poonum Khalid1, Muhammad Muzammil2 and Ghulam Abbas1
ABSTRACT
Objective: To analyze the effect of proton pump inhibitors (PPIs) on incidence rate of upper gastrointestinal tract bleeding (UGIB) in patients with chronic kidney disease undergoing hemodialysis.
Study Design: A retrospective cohort study
Place and Duration of Study: This study was conducted at the Nephrology department of Nishtar Medical University & Hospital Multan from 22nd June 2020 to 22nd Dec 2020.
Materials and Methods: Clinical data of 300 patients suffering from end-stage renal disease and who began hemodialysis between 2015 to 2020 was categorically reviewed. The study compared the incidence of upper gastrointestinal tract bleeding in 80 patients treated with PPIs to another 220 patients who didn't undergo this treatment (control group).
Results: 41 patients had UGIB during the study period, at the rate of 14.4 per 1000 persons per year. In the patients given anti-platelet or warfarin therapy, the incidence was 20.7 per 1000 persons per year. A meantime of 26.3± 29.6 months was found between the start of dialysis and the appearance of UGIB. Kaplan-Meier analysis revealed a significantly lower probability of UGIB occurrence in PPI group as compared to control group. Univariate analysis demonstrated an association of anti-platelet and anti-coagulation, PPI use, and coronary artery disease with UGIB. After adjusting confounding variables involved in the potential occurrence of UGIB, PPI was highly effective in lowering UGIB when compared with the control group.
Conclusion: Treatment of patients with chronic renal disease undergoing dialysis with PPIs leads to reduced occurrence of UGIB.
Key Words: Dialysis, Chronic Renal Disease, Proton Pump Inhibitor
Citation of article: Saeed AA, Khalid P, Muzammil M, Abbas G. Comparison of Frequency of Upper Gastrointestinal Bleeding With and Without the Use of Proton Pump Inhibitors in Patients of Chronic Kidney Disease Undergoing Hemodialysis. Med Forum 2022;33(3):57-60.