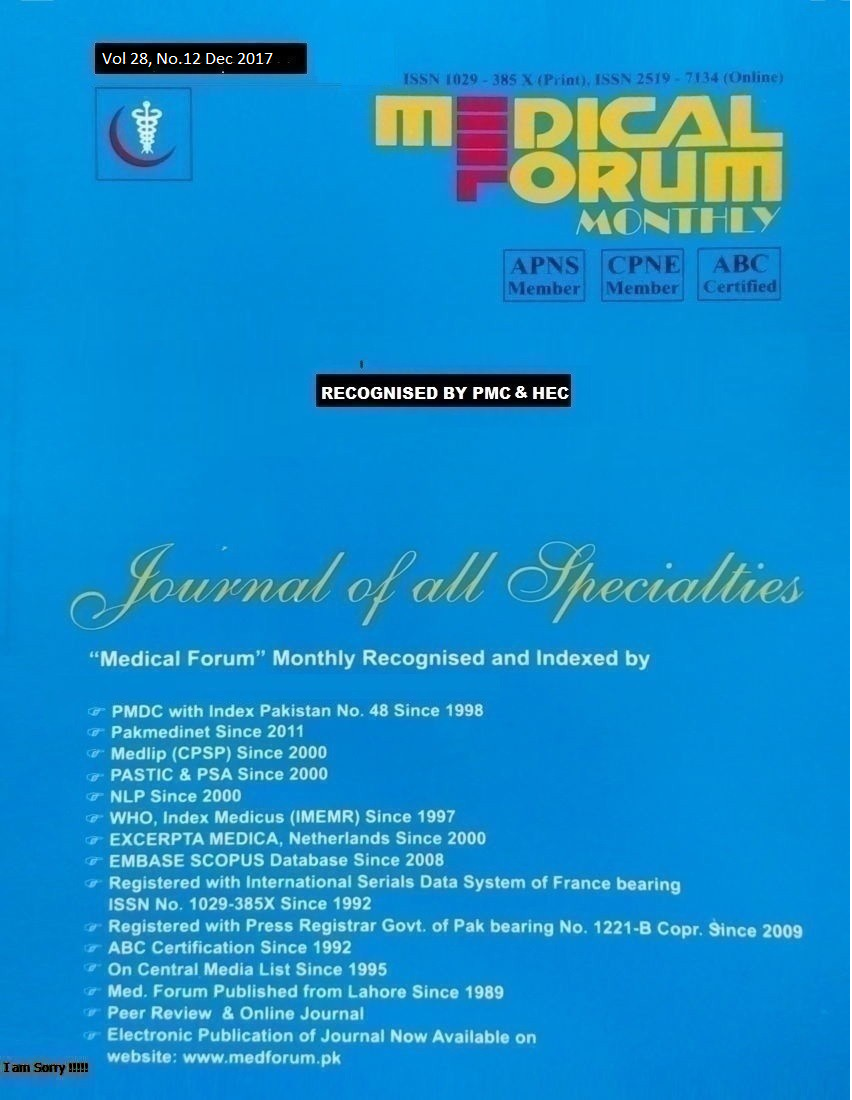 Admin
10. Frequency of Gynecological Bolan Medical Hospital Quetta
| | | | | |
| --- | --- | --- | --- | --- |
| | Iffat Usmani, Hanana Hameed and Fozia Jan | | | |
ABSTRACT
Objective: To determine the frequency, treatment and outcome of different genital tract malignancies in the province of Balochistan.
Study Design: Descriptive / cross-sectional study
Place and Duration of Study: This study was conducted at the Department of Obstetrics and Gynecology, Bolan Medical Complex, Quetta from Jan, 2009 to Dec. 2015.
Materials and Methods: A total of (5060) patients were admitted in BMCH during the period of 7 years and all the patients with genital tract malignancies confirmed on Histopathology report were included. Relevant data regarding history was obtained and physical examination was performed on all patients and investigations were done for all the patients. Surgical procedures were performed where needed and specimens were sent for histopathology. Clinical & surgical staging was done according to the FIGO classification.
Results: A total of 5,060 patients were admitted and after examination a total of 105 patients had gynecological malignancies. Carcinoma of the ovary was the most common (42%), followed by Cervical Cancer (25%) and Uterine Cancer (17%). Choriocarcinoma was seen in (7.6%), while vulvae & vaginal cancer (6.6%). The mean age was 50 years. The lowest parity was seen in ovarian cancers (21%), whereas cervical & uterine cancers were seen in multipara (31%). Ovarian cancers mostly presented with abdominal mass (34%), abdominal pain (24%), weight loss (25%) & anorexia (20%). While uterine & cervical cancers were usually presented with irregular vaginal bleeding (24%), postmenopausal bleeding (16%) & vaginal discharge (16%). 65% patient presented in stage iii & iv. Serous cystadenocarcinoma was the commonest ovarian malignancy (40%), while most common cervical cancer was squamous cell carcinoma (85%) & endometroid endometrial carcinoma (55%) was the most common uterine carcinoma.
Conclusion: Major gynecological malignancy encountered in our study was Ovarian Cancer in advanced stages.
Patient education is essential for early diagnosis and treatment of ovarian cancer.
Key Words: Gynecological Malignancies, Ovarian Cancer, Cervical Cancer, Uterine Cancer.
Citation of articles: Usmani I, Hameed H, Jan F. Frequency of Gynecological Malignancies Treatment and Outcome at Bolan Medical Hospital Quetta. Med Forum 2017;28(12):39-43.